Your treatment options will depend on the type and stage of your disease. Your cancer care team will develop a detailed treatment plan for you, taking into consideration your cancer as well as your other health needs. This teamwork ensures that you receive the best possible care.
As a partner in your own care, the first step is to choose the right cancer care team, usually beginning with your oncologist (a doctor who is a cancer specialist). Many other doctors, nurses and specialists will also be involved in your care, and understanding their roles will help as you decide how to proceed with your care.
It is very important that you feel comfortable talking to members of your cancer care team. You have the right to ask questions; discuss your lung cancer treatment options and openly express your concerns, emotions and wishes.
Your Cancer Care Team
A variety of specialists may be included in your cancer care team: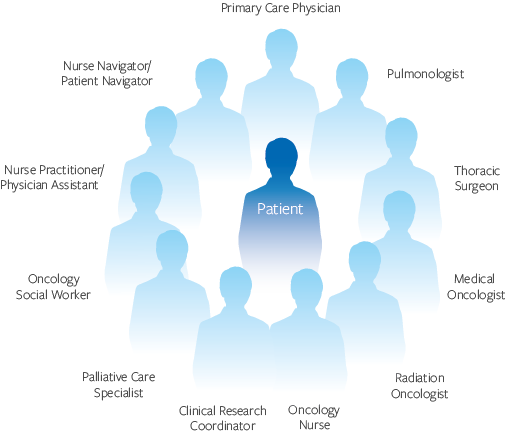 A medical oncologist will prescribe the drugs, such as chemotherapy, targeted therapy agents, and supportive care treatments (treatments to help you feel comfortable throughout the entire process) that are needed to help treat your cancer and manage your symptoms.
A thoracic oncologist is a medical oncologist who specializes in treating lung cancer patients.
A radiation oncologist uses concentrated x-rays (radiation) to eliminate cancer cells. Radiation and medical oncologists often work together to determine and carry out treatment plans.
A thoracic surgeon has special training to remove or operate on lung cancer tumors. If there is not a thoracic surgeon available in your area, ask which nearby surgeon performs the most lung cancer surgeries and make sure they are experienced in minimally invasive techniques (a variety of techniques used by surgeons that generally allow for a quicker recovery time and create less overall damage to the body).
A pulmonologist may diagnose and help treat your lung cancer and help manage specific side effects of your lung cancer. A respiratory therapist can help if you have trouble breathing. Interventional pulmonologists may perform diagnostic tests and help you with side effects from lung cancer or any additional diseases of the lung you may have.
Palliative care specialists may provide care and support as you and your loved ones face the challenges of living with cancer. These doctors and nurses can help you sort through information to make medical decisions; assist with making plans for living well during and after your cancer treatment; or prescribe treatments to control pain, issues with breathing, or other uncomfortable symptoms. These specialists can also help you and your loved ones find the emotional and spiritual support you may need.
Nurse practitioners and physician assistants are specially trained to provide you with medical care ranging from preventive care and physical exams to ordering tests, prescribing certain medications and assisting with surgery and hospital care. They work with your doctors to check on your overall health and your response to treatment(s).
Oncology nurses are specially trained in the care of cancer patients. Working with your doctors, they will carefully check your progress as partners in your journey with lung cancer. Oncology nurses may also give you the drugs your doctors prescribe. If you are part of a clinical trial testing a new treatment, research nurses will check on you and take any concerns or questions to your doctor.
Oncology social workers provide counseling and support. They work with the whole medical team to address your specific needs, connect you with useful resources and discuss your emotional well-being. For example, a social worker may help you and your family find a place to stay during treatment if your cancer center is far from home. A social worker might also help you with payment or other cancer-related financial issues.
Nurse navigators or patient navigators help coordinate care with the many different people on your team. They may help ensure that your tests are orderedor appointments are scheduled; work with your insurance on any questions that come up or help you find emotional, financial or other support services. Nurses, nurse practitioners, social workers or others may act as patient navigators. Your patient navigator is often your key contact when you have questions or problems.
Depending on your needs, other specialists may be part of your cancer team. If you decide to enter a clinical trial, a clinical research coordinator will help you get started and check in with you throughout the course of your treatment. A nutritionist can discuss foods and supplements that will help keep you healthy while you are in treatment. A psychologist can help you and your family deal with the emotions surrounding your cancer diagnosis and treatment. A case manager may coordinate your lung cancer care. Even though you will be seeing specialists for your cancer treatment, you will still need regular medical care from someone overseeing your general health. Your primary care physician (PCP) should be kept informed about your condition and updated about your cancer treatment. For the best care, your oncologist and PCP should work together as a team. Oncologists usually send written reports to your PCP after you visit your cancer care team.