We're so excited you're joining the first-ever nationwide Kites for a Cure! While this expanded, virtual event is brand new, Kites for a Cure has been around since 2008. That's when a group of friends and family gathered in New Jersey to fly kites in memory of Elliot Chalmé A'H, who passed away from lung cancer. The current pandemic is challenging, but it's given us an opportunity to take this inspiration activity to new heights!
We'll start off with a livestreamed program as we gather to share our connection to lung cancer, hear from a researcher, and learn how your participation is making an impact. Then it's time to go fly a kite!
Because of you, new research discoveries, drug approvals and treatments are improving lung cancer outcomes every day! Find out more about the work you're supporting.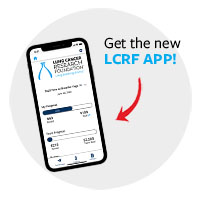 You can do even more by using the LCRF mobile app. Click a button to download, or search "LCRF" in the app store. If you have any questions, our events team is here to help: events@lcrf.org.