We're so excited you're joining the first-ever virtual Free to Breathe Walk! This is an opportunity for us to connect in ways we never have before, transcending geography to join in our mission to fund groundbreaking research.
We'll start off with a livestreamed program as we gather to share our connection to lung cancer, hear from a researcher, and learn how your participation is making an impact. Then it's time to walk! Lace up your shoes and step out.
Because of you, new research discoveries, drug approvals and treatments are improving lung cancer outcomes every day! Find out more about the work you're supporting.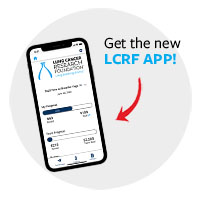 You can do even more by using the LCRF mobile app. Click a button to download, or search "LCRF" in the app store. If you have any questions, our events team is here to help: events@lcrf.org.