What is the LCMC?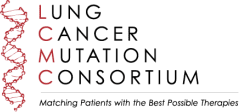 Housed administratively at LCRF, the Lung Cancer Mutation Consortium (LCMC) is an association of major cancer centers that conducts clinical trials designed to change the practice of thoracic oncology. It is uniquely structured to convene multiple partners, reduce the overhead burden of conducting trials, and to facilitate connections with the broader lung cancer and advocacy communities. Over the past decade, LCMC investigators have conducted studies with thousands of lung cancer patients on topics ranging from genomic testing to neoadjuvant treatments.
About the Current Study: LCMC4
The current study, titled "LCMC4: Screening Patients with Suspected Early-Stage Lung Cancers for Actionable Oncogene Targets," is the fourth study conducted through the LCMC and is a collaborative effort involving numerous pharmaceutical sponsors and academic study sites. As part of an "umbrella trial" design, the goal of this study is to screen for ten actionable driver mutations in one thousand lung cancer patients who are candidates for neoadjuvant therapy (i.e. additional therapy before surgery). Ultimately, the LCMC4 screening study will not only provide insight into many aspects of neoadjuvant treatment but also effectively direct hundreds of patients onto other neoadjuvant therapeutic studies matched to the driver mutations detected.