This time of year, many of us are thinking about the people we've lost – but the reality is that those memories are never far away.
We're taking this opportunity to bring the lung cancer community together to remember the lives of the people we've lost to this disease.
Starting on Memorial Day, May 25, we have been featuring your stories and photos and celebrate your friends and family members. They may not be with us physically, but they continue to influence who we are. Say their names proudly and tell about the qualities that made them unique.
You can also visit the In Memoriam page and view permanent virtual memorial plaques.
Remembering Steve
I lost my dad, Steve Jackson, to lung cancer on March 2, 2020. We received the diagnosis and buried him all within 9 months. My family and I really believed in our hearts that he was going to beat this disease and were NOT prepared to never see him again. We visited several doctors, various specialists and we never gave up hope. Unfortunately, the cancer spread and impacted additional areas of his body. He passed at home with my mom and I after we both tried passionately to save his life through CPR until help arrived.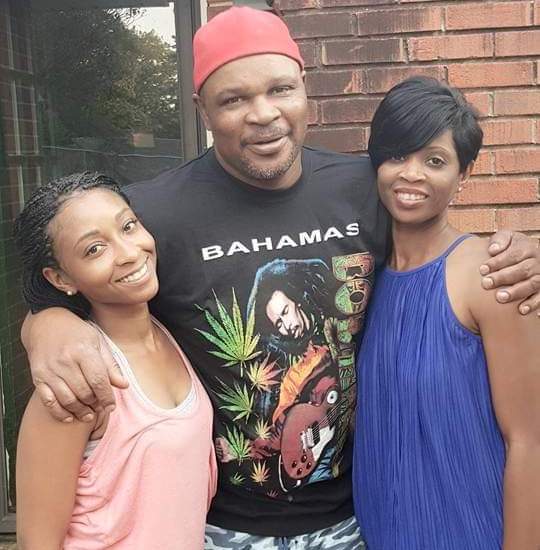 While an entrepreneur he always made our family a priority and we miss him dearly. My niece was born Dec 2, 2019, three months before his death to the date. It was one of the most remarkable experiences of our lives. We are so thankful that he had a chance to meet her.
He fought hard, we prayed consistently, but God needed him more. I will use the experience to share our story and hope it supports others as they travel through a cancer journey. While never easy, we now have memories that will last forever.
– Munyette Moore
---
Remembering Gene
Our friend Gene Thorkildsen, a Seattle native, battled lung cancer but he never allowed it to define him. He was the guy everyone wanted to be around. He was funny, talented and very kind. He was healthy, vibrant and active, but as we know, cancer does not discriminate.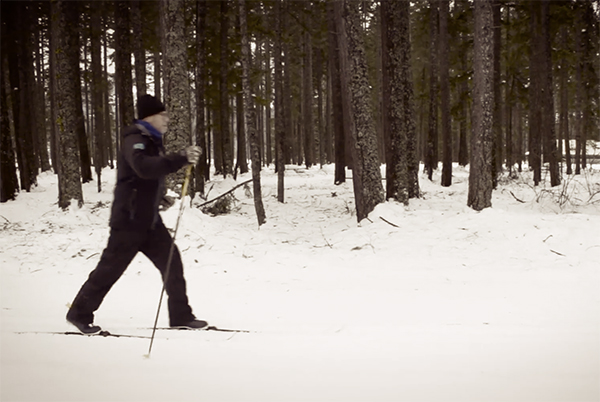 Throughout Gene's life he adopted the mantra: "Kick and Glide" as his way of pushing through life's challenges. With stage 4 cancer and the support of a documentary film crew, Gene made the decision to participate in the historic Birkebeiner Nordic ski race, in Lillehammer, Norway. The 54 km course, with an elevation climb of 910 m, spans across two mountains, and is considered one of the most difficult on the Worldloppet circuit.
After a discussion with his oncologist, Gene decided to stop his treatment to build up his immune system for the race. Our small film crew traveled with Gene to his ancestral homeland, visiting his extended family to enjoy Norwegian food and learn about the traditions he was so fond of. This was a trip of a lifetime for all of us.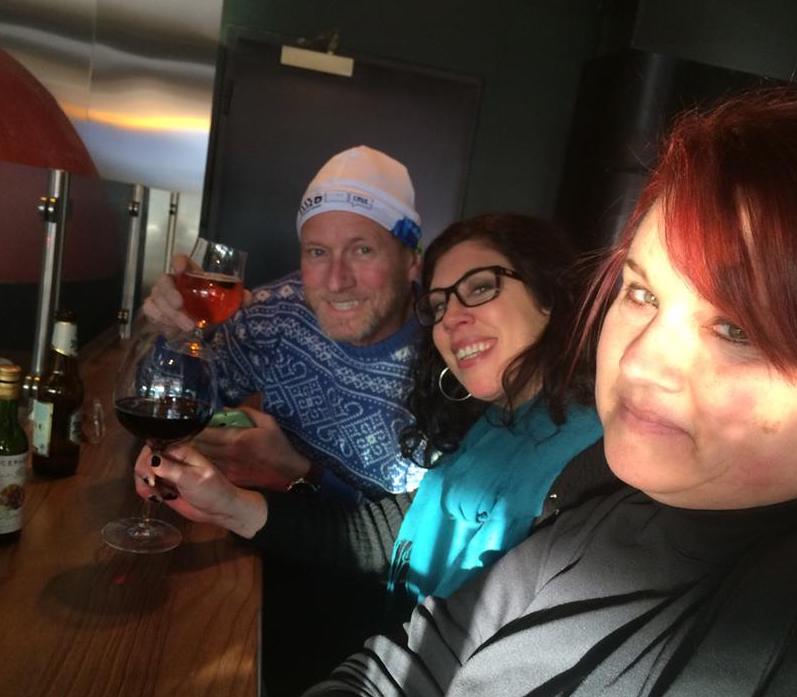 Gene passed away six months after our return from Norway. Today, we continue his journey on his behalf, through the making of our documentary, Kick & Glide: The Gene Project, fulfilling his dream of helping others dealing with cancer.
We appreciate the resources LCRF provides to support lung cancer patients and their friends and family.
– Becki J. Chandler and Kris Flink
---
Remembering David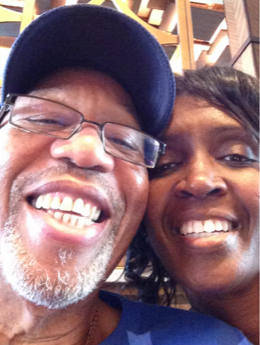 David P. Wells was the best husband and the best father a girl could ask for. My greatest memory of him was his passion for love, life and his family. He made sure his loved ones celebrated holidays together. And he spent every minute that he could with his family. Please keep his candle lit forever.
– Monica Wells
David died of lung cancer in 2017 at the age of 65.
---
Remembering Jay
My dad was the man. He wasn't just special because he was my dad. He was special because he stepped up when I needed him. He did everything a dad should do for his daughter. He taught me to ride a bike, fish, hunt, etc. I could go on and on about why my dad was special to me.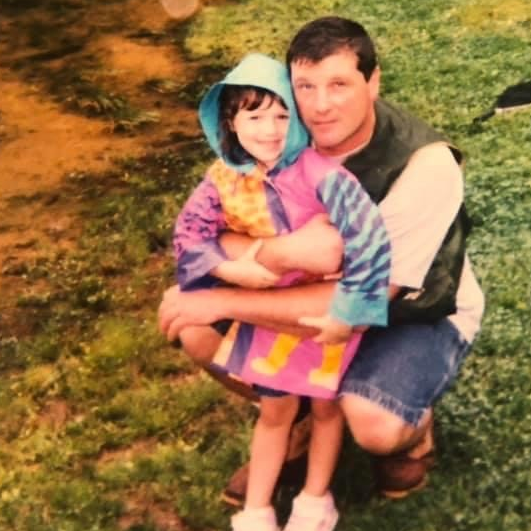 But he wasn't just special to me, he was special to everyone. He went out of his way to help anyone who needed it. He was a plumber and always worked hard. He had his own business up until after he passed away. It hurt to close the business down, but we no longer had our master plumber.
Losing him was a loss to the whole neighborhood of Roxborough. We had Sunday routines of going to Taylor's Café for breakfast and heading to my uncle's for cookies and coffee (for the adults), and whoever knew the most people on our Sundays was the "Star" of the day. He won a lot because he was so popular. Everyone knew Jay Clark.
His battle with lung cancer was very short. He was diagnosed in September 2014, and passed away October 1, 2014. I had turned 16 in August and was just starting 10th grade. It was the hardest loss I had to deal with. In 2017, I found out I was pregnant with my son, Giovanni. I was due on October 2, a day after the anniversary of my dad's passing.
As sad as those days are, I was reminded that he's always with me and will always be my side like I was for him. My son will know everything about his Poppy, and all of the lessons he taught me. He's missed terribly everyday.
– Amber Cahill
---
Remembering Gloria
My grandmother, Gloria N. Dunn was definitely one of a kind. She saw every human as a human and treated everyone with equal respect, kindness and love. No matter where you were from, whether you were the President or a bathroom cleaner, there was no difference to her. You were a human with a heart and she would treat you as a friend or a loved one.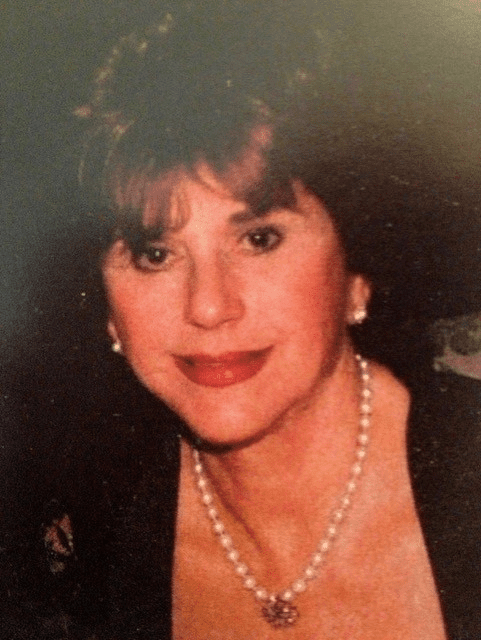 I owe so much to my grandmother; I was only 11 years old when she passed away but in those 11 years that I got to know her, I learned so much. Maybe more than I ever will in my entire life.
Gloria had a love of life especially travel and learning about other cultures, she was a world traveler and right before she passed she had visited almost every continent on Earth. She also had a passion for the fine and performing arts, which rubbed off on me immensely as well. I still think of her when I hear a song from "Phantom of the Opera" or one of the many other musicals and plays we saw together. My Grandmother knew how to live her best life and brought so many people abundant joy. There is not a day that goes by where I don't think about Gloria. My Grandmother's legacy and love lives on in me forever. She was a blessing I am so grateful for.
– Carlee Pons
---
Remembering Steve "Brownie"
" I'm not going anywhere" were the last words my dad said to me. A few moments later on the other side of the curtain I heard him gasping for air as he took his last breaths – he was 56. It was June 9, 2017 and I was about three months away from delivering my first child – a beautiful baby boy who would never meet his "Papa" on this Earth. He had been diagnosed a short eight weeks earlier having experienced little to no symptoms.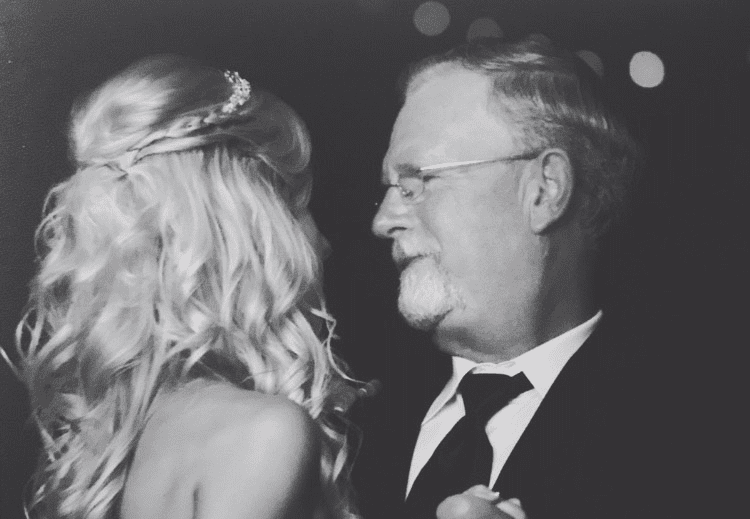 My dad was one for the books and one everyone knew in the small town I grew up in. My family and I were lucky to have him, as was this world, albeit for the short time he was here. I like to think that his words still ring true and that he's still here – sight unseen. I funnel my passion and anger with lung cancer towards fundraising each year for the fight for air climb and Free to Breathe walks for "Team Brownie" in honor of my dad in an attempt to fight this horrible disease that touches so many.
– Stephanie Krusich
---
Remembering Linda
Linda J. (Ouellette) Rushford, 69, died Tuesday, May 19, 2020. She passed away peacefully with her two daughters by her side after an almost seven year battle with Stage IV lung cancer. She died how she lived, with strength, dignity, and grace.
Linda loved to work and took pride in helping others but her most cherished time was spent with her family, especially her grandchildren, who she loved beyond words. She was an avid sports fan, particularly of the Red Sox and JD Martinez. She enjoyed shopping, solving Sudoku puzzles (no puzzle was challenging enough), and trips to Maine.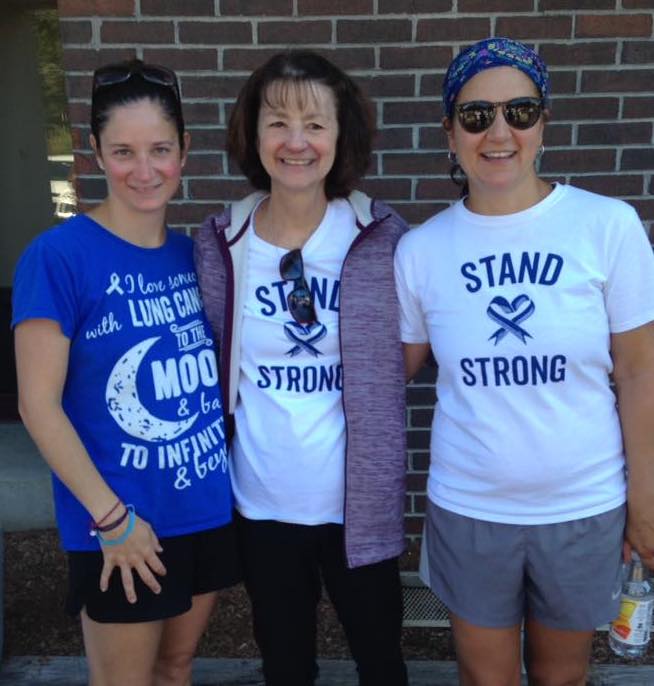 From the time of her diagnosis in 2013, Linda, along with her extended family participated in the annual Free to Breathe walk in Chelmsford. Her daughter Megan was one of the opening speakers in the 2016 walk, giving testimony to the power of fundraising, research, testing, trial medication, her mother's fight, and the strength of the human spirit.
Daughters Rebecca (Becky) and Megan were her biggest advocates, walking beside her every step of her fight, constantly pushing for answers, options, and solutions. Until the moment of her passing, Linda made sure her life and her fight made a difference – not only for her family, but for the medical community and to others who may follow behind her with the same diagnosis. Linda outlived her initial prognosis by over six years and even baffled medical personnel with her strength and will to live in her final weeks. Her strength and determination, love, kindness, humor, and grace have become her legacy. She will be immensely missed by everyone who knew her and will never forgotten (as we wait for signs…).
It is in loving memory of her that we make this tribute.
– Linda's family
---
Remembering Faye Marie
My mom, Faye Marie, was always the life of the party, with her vivacious personality and effervescent laugh.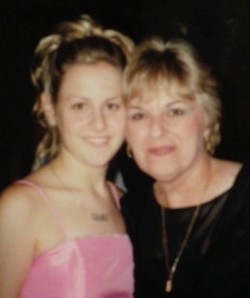 She was a native New Yorker, born in Manhattan, and moved to Staten Island in her thirties to start a family with my dad, John – whom she met while getting her hair styled for a work gala at the Waldorf Astoria in NYC. Being her bold, bright self and at the risk of seeming too forward (which was not really something she was concerned about), she asked him if he wanted to be her date at the gala that night – and the rest is history.
I lost my mom to lung cancer in 2011. It was one misdiagnosis after another followed by a very short battle. She was my best friend – my biggest fan and my greatest critic, which shaped the person I am today. We enjoyed shopping together, watching TV, seeing shows on Broadway, and having our own sing and dance parties. I miss her more and more every day that passes, and especially now that I am a mom, myself.
I find solace knowing that she is proudly watching over my daughter and I.
While Gracie Faye never met her glam-ma, she will always carry the gift of her name. The best compliments I've ever received are hearing how much I am like my mom as a parent. The continued love and support from family, friends, and the lung cancer community, gives me the strength to remember her smile, laughter and passion for living life.
Through fundraising and awareness efforts and events, I'm able to focus on the amazing memories of her, and stay positive for other families facing a lung cancer diagnosis and journey. I am grateful to LCRF for their dedication and passion toward the cause – and for believing that lung cancer survival should be the expectation and not the exception.
– Nicole Duffy
Faye Marie is also memorialized on the In Memoriam page.
---
Remembering Lesley
Lesley Allyn DeMaio Duffy had an extraordinary number of friends because she was an extraordinary friend. Lesley brought people together from her many circles and wove a tapestry of lives and relationships that led to new friendships, new jobs, and even marriages. Mother of our two young children, Lachlan and Camden, Lesley found happiness and humor first with her family, then through friends and sports.
After nearly a three year-battle with lung cancer, my beautiful wife passed away on July 15, 2018 at the age of 41.
I am often asked, "Chris, how are you doing?" This is a question with an answer that differs by the day, even hour. For now, I would like to say it hurts less. It's different now. Unfortunately, I think time dulls the constant pain, but it makes the memories and the pain hurt more acutely when it does come. I see her in places, in memories, on special dates, in the kids – and I can't believe that she isn't here. I still feel the emotions – they are there, but not as sharp.
What I do know for sure is that the world is a better place for Lesley having been here, and I know her legacy will continue to live on.
– Chris Duffy
Each year, two of Lesley's close friends, Kortni and Tiffany, join with Chris to lead Team DeMuffy at the Free to Breathe Chicago Lung Run. Hundreds of family and friends have raised thousands of dollars to honor Lesley's life and to support lung cancer research. It is their dedication that will save lives.
---
Remembering Michele
A wise friend once told me, "Your whole universe shifts when you lose your mom." I had no idea how true her statement would be.
I think most great things in me are because of my mom, Michele. She was bold and outspoken and often joked, "What comes up, comes out!" Anyone who knew her, knew that they could always rely on her to be candid but also authentic and caring. She had an enormous sense of humor and a kind giving spirit. She instilled in me the importance of being humble and charitable, traits that I strive to be every day in her honor.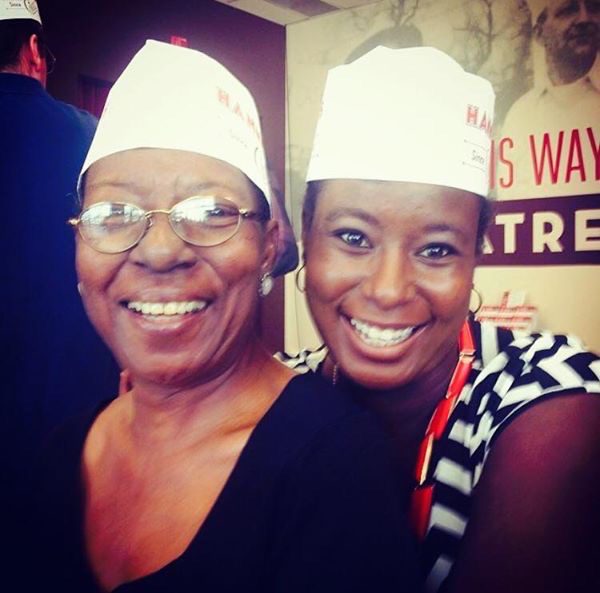 My mom was a lifelong smoker, who swore when cigarettes got to be $2 a pack that she would quit. As the price increased year after year, she moved the target, "When they get to be $3… $4… $5…"!
She never exhibited any lung cancer symptoms, so I was devastated to learn in October 2017 that she had aggressive Stage IV lung cancer. Her battle was incredibly brief, and she passed away in December that same year, just four days after her 65th birthday.
I think of my mom every day and try to continue to make her proud of me and the decisions I make. I laugh when I hear her quirky sayings fly out of my mouth and I smile when I see a picture where I resemble her.
Lung cancer snuck into our lives and I wish there had been more time or more opportunities to treat her and give her more days for her to shine in person with us. I hope that with continued research, more patients get the time and long life my mom did not – and I appreciate all the great work LCRF is doing to help make that happen.
– Tiffany Estell
---
Remembering Rita
Reina shares that she lost her mother, Rita Cyr Meucci, 21 years ago on Memorial Day. "I guess she didn't want to be forgotten. She also loved a reason to have a party, and Memorial Day can be a beautiful day for a get-together – someday!"
Rita lost her life to #lungcancer at age 53 just 10 months after being diagnosed. This photo of Rita with her children was taken about 3 years earlier.
"I am committed to finding a cure to lung cancer," Reina says. "As a board member and lung cancer survivor, I know we can change the outcomes for patients like my mother. Happy Memorial Day to all those who have lost loved ones."
---
Remembering Felice
My mother, Felice Lipit Jentis, was only 39 years old when she lost her life to non-smokers lung cancer. Like many others with a lung cancer diagnosis, she had no symptoms. She never smoked, ate a well-balanced diet, and did everything by the book. Yet, just 32 days after diagnosis, she was gone.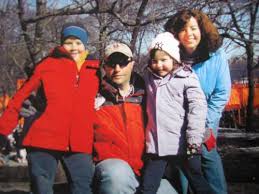 That was nearly 15 years ago. Back then, there were no options for my mother. No clinical trials, no targeted therapies, and no Hail Mary pass. It was unacceptable, and my family vowed to make a change.
Since the day she died, and in collaboration with the Lung Cancer Research Foundation, my family and I have channeled our grief by investing in lung cancer research. My mother's memory lives on through the remarkable science that continues to provide patients with new treatment methods and extended survival.
These many years without my mother have been tremendously difficult. But, thanks to my family and the promise that research provides, we have been inspired by the groundbreaking outcomes.
Today, I share my mother's story to inspire you. Together, we can save the lives of current and future lung cancer patients and may see the day when the world is free of lung cancer.
– Matthew Jentis
Matthew Jentis serves as a member of the Lung Cancer Research Foundation's Leadership Council, a group of like-minded individuals using their connection to lung cancer to raise funds and awareness for lung cancer research.
---
Remembering James
At the time, I didn't know that I was about to have one of the most important conversations of my life. It was Thursday, September 29, 2016, and I was typing away on my laptop while my dad, James Edward Muller, watched the television in front of where we were sitting. He told me to put down the computer and just enjoy the distraction of the TV and breathe for a minute – life is not all about work. I did, and I'm so grateful for that push because it was the last conversation we ever had.
My father was not a monetarily wealthy man. He did, however, have an abundance of loyal friends and loved ones who he cared deeply for and who cared deeply for him. He was rich in love.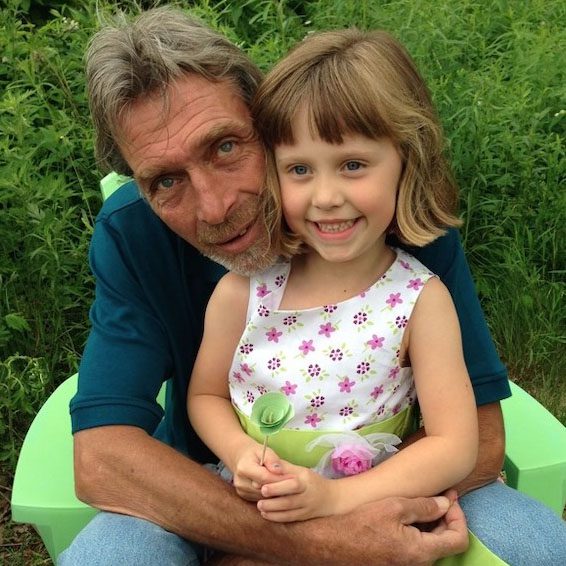 Jim, Jimmy, Jim-bo – he went by many names but two of his favorite were Daddy and Pop-Pop. He was the father to three beautiful girls and a grandfather to one; there was nothing he wouldn't do for any of us.
He ignored months of severe leg pain, minimizing it because he thought he had a spider bite. Finally, he drove himself to the hospital. On June 3, 2016 he was diagnosed with Stage 3A lung cancer.
The doctors said treatment would be aggressive – the tumor was big, but our optimism was bigger. So, we put on our battle gear and went to war. For four months, my father and I spent more time together than we had in years. The hospital became our second home, and the nurses and doctors quickly became old friends of ours.
My dad was not rich in money; he was rich in love. Even in his death he continued to give. He donated his eyes to help two people regain their vision and see their loved ones once again.
And every day I'm able to share his story, he gives even more.
Life is short. Put down the laptop, turn off the phone, and breathe in the possibility that each moment presents itself with. You never know when it will be the final opportunity to enjoy all that it has to offer.
– Megan Muller
Megan Muller is a member of LCRF's Leadership Council and honored her dad by participating in the Northern New Jersey Free to Breathe Walk.
---
Remembering Dennis
A few of you have heard me speak about my dad, Dennis McCormick, and may know that he passed away from lung cancer. My dad was my hero and despite being the only one of his six children not biologically related to him, I am the most like him in too many ways to count. Being able to spend almost every day of his seven-month battle with lung cancer by his side was one of the best things I have ever experienced.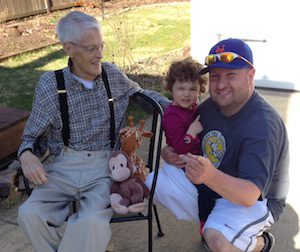 St. Patrick's Day was his favorite holiday and continues to be mine. While he was alive it was day filled with family and friends and it's a day that I miss him the most. This is my fifth St. Patrick's Day without him, but I am not going to let some virus stop me from getting my corned beef and tipping a few Jamesons in his honor.
No matter how sad this day is for me it makes me very happy to know that I work with so many dedicated people who spend time away from their families every day working to find a cure for this horrible disease.
– Michael Niekamp
Michael Niekamp is Senior Director, Finance and Administration, for the Lung Cancer Research Foundation. He shared this message with the LCRF staff on St. Patrick's Day 2020.