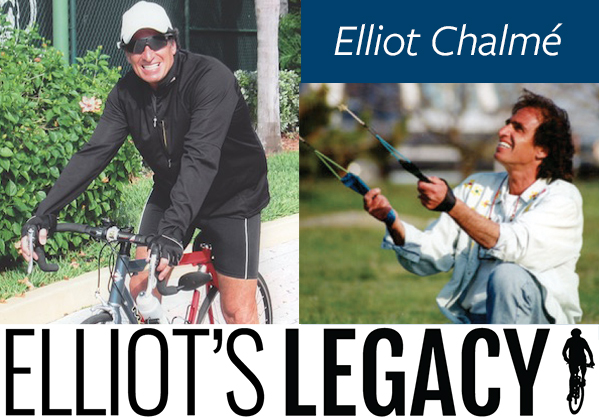 The 16th annual Elliot's Legacy, a beachside family carnival featuring kite flying in memory of Elliot Chalmé A'H, took place August 20. Elliot passed away from lung cancer in 2006 at the age of 56, and flying kites was a beloved activity of his.
At least 500 people – most of them families with children – enjoyed activities including airbrushing, rides, bounce houses, and (of course) flying kites.
LCRF Board member Ray Chalmé, his brothers Richie and Hy, their mother Robin and a new generation of Chalmés have raised close to $8 million since the event's inception in 2007.
Robin Chalmé Rahmey, Elliot's granddaughter, had a big role in planning this year's event. "Growing up, my family's commitment to funding research was second only to honoring my grandfather in a fun and family-oriented way," she said. "It's just who he was, so it seems natural that I help continue the tradition of bringing families together to fly kites in his memory for years to come."
"It's incredible to think that this event we started 16 years ago to honor our dad has supported the work of so many lung cancer researchers," said Ray Chalmé. "The $8 million raised for lung cancer research through Elliott's Legacy Kites for a Cure means an additional $48 million in follow-on funding will be received by LCRF grantees."
"Elliot was a shining light to so many, and he continues to shine through this event. We're so honored to have his legacy be the catalyst for giving other lung cancer patients more time," said Elliot's wife, Robin.
The Chalmé family is grateful to the generous sponsors and donors who have supported the event year after year, and are proud of the impact they are making on the future for patients with lung cancer.
"We not only keep my dad's memory alive through this event, but research advancements are also directly impacted by the many generous donors who help us continue to fight for a cure every year," Ray added.
"LCRF is indebted to the Chalmé family," said Aubrey Rhodes, Executive Director. "Their commitment to funding lung cancer research is demonstrated year after year. Their impact is felt far beyond just what the family has raised through this event over the last 16 years. We are so grateful for their belief in the mission of LCRF."
Below are a few photos of the event. More photos will be available soon.