Honor and Memorial Gifts
Gifts in honor or memory of loved ones can be made online here. Checks made payable to "Lung Cancer Research Foundation" can be mailed to 501 7th Ave, Suite 230, New York, NY 10018. For further details on memorial contributions or for assistance with language in an obituary or for a memorial service, please contact Kathleen Braslow, Director, Donor Development, at kbraslow@LCRF.org.
---
Double Your Impact
You can double your impact on lung cancer research without needing to give even a dollar more. Many businesses have charitable giving programs in place which will match their employees' donations to nonprofits like LCRF. Find out more and use our search tool to see if your employer offers a match for donations.
---
Bequests
Gift planning is among the most powerful ways to invest in research. Gift planning makes it possible for you to increase your impact by giving more than you otherwise would. In addition, gift planning makes it possible to have an impact sooner than you otherwise would.
Our program encompasses all charitable gifts, such as wills, trusts, life insurance, retirement plans, stock and donor advised funds.
We have partnered with FreeWill to offer you their secure will-planning resource, which you can use to create your will and legacy gift online for free. If you would prefer to finalize your will with an attorney, you can also save on costs by using FreeWill to document your wishes and legacy gift first.
Learn more by contacting Kathleen Braslow, Director, Donor Development, at kbraslow@LCRF.org.
---
Donor-Advised Funds (DAF)
A donor advised fund (DAF) is a charitable giving program that allows you to combine the most favorable tax benefits with the flexibility to support your favorite causes. It allows charitably-inclined individuals, families and businesses to make tax-deductible charitable donations of cash, publicly-traded stock and in some cases, certain illiquid assets.
If you have a donor advised fund, DAF Direct enables you to recommend grants to the Lung Cancer Research Foundation directly from your DAF.
Click here to donate to the Lung Cancer Research Foundation securely via a donor-advised fund. For assistance, contact Kathleen Braslow, Director, Donor Development, at kbraslow@LCRF.org.
---
Gifts of Securities
Donating securities provides a tax-efficient way to support innovative lung cancer research. By donating shares of stock, supporters can minimize their tax liability, get a tax deduction of the fair-market value of the stock and avoid capital-gains taxes on portfolio growth — all while helping support promising research that might otherwise go unfunded.
For more details on transferring stock to LCRF, please call (212) 588-1580. To ensure a smooth transfer, prepare the following information before calling:
Brokerage
Account Name
Account Number
DTC Number
Contact
Tax ID Number
---
Cryptocurrency
Endaoment provides a wide range of philanthropic financial services, including an application which makes on-chain giving easy. Using Endaoment, users can donate cryptocurrencies in their original token form, on-chain. This means the potential tax deduction is equal to the market value of the donation. All actions occur on-chain and are publicly verifiable using a blockchain explorer like Etherscan. To get started, visit this link.
---
Workplace Giving
Private employers, federal, state and local governments all offer payroll deduction opportunities.
Payroll deduction is an employer-sponsored program that empowers you to support the Lung Cancer Research Foundation's (LCRF) mission with a tax-deductible donation given directly from your paycheck. Payroll deduction is one of the easiest and most cost-effective ways to LCRF, but there are many options available. Work with your HR department to find out if your company participates in any of the following programs to get started.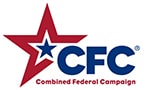 Combined Federal Campaign
Federal employees (civilian, military and postal workers) can donate to LCRF through the Combined Federal Campaign (CFC), which is a workplace giving campaign specifically targeting federal workers. To designate your contribution to LCRF, use CFC ID # 42372.
You can donate to LCRF when you make your CFC pledge in the fall. Check with your HR department for details on when to pledge. Campaigns run between September 1 and December 15 each year.
---
Shopping for a Cause
Minted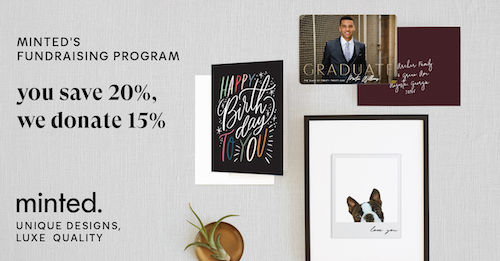 Minted is a design marketplace, sourcing creative content from a global community of independent artists, then selling the best content in the form of art, home décor, and stationery. LCRF is a charity partner with Minted, and when you use our partner code you will receive 20% off, and 15% of the purchase price will be donated back to LCRF at the end of the year. Shop at minted.com and use the code:
FUNDRAISELCRF