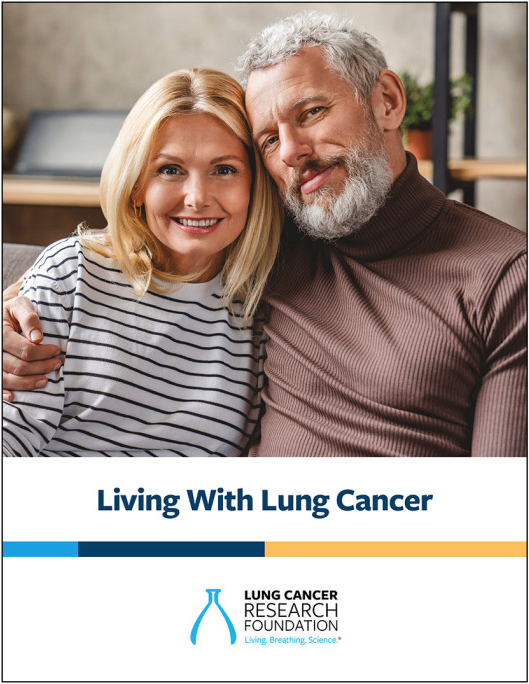 This section of the LCRF website is reprinted from our NEW flagship booklet, Living with Lung Cancer. Browse the links, enter your email for a PDF download, or order a printed copy to be mailed to you free of charge (U.S. addresses only).
The full booklet also contains a short directory of resources, including support and financial services. You can also visit our Quick Links for Patients and Caregivers page.
This free resource is provided with support from AbbVie, Bristol-Myers Squibb, Eisai Inc., Elevation Oncology, Eli Lilly and Company, Foundation Medicine, Genentech – a member of the Roche Group, Mirati Therapeutics Inc., Novartis, Takeda, Turning Point Therapeutics, and generous donations.
---
Introduction
We hope this guide will help prepare you for what lies ahead in your journey with lung cancer. Whether you are newly diagnosed with lung cancer or a caregiver who wants to learn more, this guide has resources for everyone.
The first thing to know is there is reason for hope. Much progress is being made for people with lung cancer, with many new treatments being developed and tested every day. There have been tremendous changes in treatment options since our first guide was published.
Of course, you may experience many strong emotions. This is part of the process of dealing with your diagnosis. In this guide we explore emotions both at diagnosis and every day forward.
We also know that a key part of living with lung cancer is learning the facts and staying informed. This booklet will give you an overview that may help you understand your disease and treatment options. Speaking up and asking as many questions as necessary is also part of the process.
If you didn't receive a personalized cancer care plan (a document for you to record your diagnosis and treatment plan, and take notes) from your care team, you can download our care plan at LCRF.org/care-plan or order one for free at LCRF.org/resources. See this link for more information about care plans.
Please keep in mind that available treatments are constantly changing. You should rely on your medical team for direct treatment recommendations.
---
Table of Contents
To navigate to a section, click its title.