---
For Patients & Caregivers
After finding out you (or a loved one) have lung cancer, you may wonder what this diagnosis means for your future and your health. The first thing to know is there is reason for hope. Much progress is being made for people diagnosed with lung cancer every day. A key part to living with lung cancer is learning the facts and staying informed. We can help.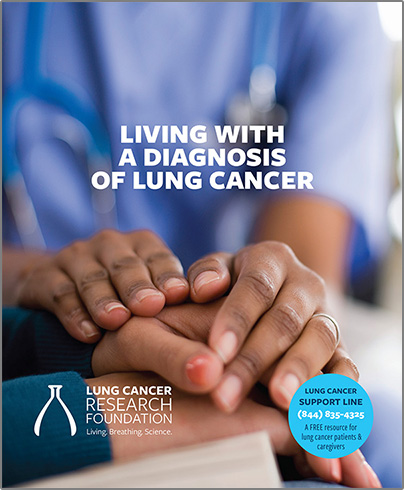 Living with a Diagnosis of Lung Cancer
Read selections from this comprehensive guide for patients and caregivers. Learn the answers to common questions about lung cancer and how it's treated.
Patient & Caregiver Educational Materials
We provide up-to-date and credible sources of information on diagnosis, treatment, and what to expect from treatment through our free educational materials. We also have tools to help you facilitate discussions with your healthcare team so you can play an active role in treatment decisions. Our materials are available in both digital download and print format.
Lung Cancer Support Line
Our toll-free number is a resource available to anyone affected by lung cancer. Call us if you need someone to talk to for support—we are available Monday-Friday between 9am-5pm ET/ 8am-4pm CT. Phone us toll-free at (844) 835-4325 or email support@LCRF.org.
#TogetherSeparately Livestreams
LCRF hosts webinars to bring the lung cancer community together to discuss topics important to them. Find out more and register for an upcoming livestream. The community also has a lively and engaged Facebook group.
---
For Medical Professionals
Any of the resources for patients and caregivers can be ordered in quantity for your clinic. To order a sample kit containing one copy of each item, email support@LCRF.org.
In addition, we offer a Personal Lung Cancer Profile tear pad in English or Spanish. This tool lets medical professionals explain and illustrate a lung cancer diagnosis in an easy-to understand way.
---
For Community Awareness
Looking to spread the word about lung cancer awareness in your community? Our free materials can help you educate others about lung cancer and the research LCRF funds.