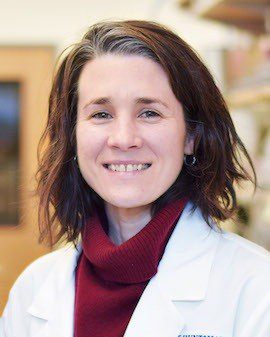 LCRF Scientific Advisory Board member Trudy G. Oliver, PhD, received the Heine H. Hansen Lectureship Award for Small Cell Lung Cancer during the International Association for the Study of Lung Cancer's (IASLC) 2021 World Conference on Lung Cancer last week. The lectureship award recognize clinicians and researchers who made significant contributions to the fight against lung cancer and represent many major categories of lung cancer research, from tumor staging to tobacco control and smoking cessation.
Dr. Oliver was recognized for her work in pharmacology and cancer research. She is an associate professor in the Department of Oncological Sciences at the University of Utah and a Huntsman Cancer Institute (HCI) Endowed Chair in Cancer Research. She currently co-leads the Cell Response and Regulation (CRR) program and the Lung Cancer Center at HCI.
She has received many awards, including the LCRF's William C. Rippe Award for Distinguished Research in Lung Cancer.
Dr. Oliver's research is devoted to understanding mechanisms of lung cancer biology with the goal of identifying noval therapeutic targets to improve patient outcomes. Her laboratory has developed multiple, novel mouse models of squamous and small cell lung cancer (SCLC). Using these systems, her lab discovered that the MYC oncogene drives unique molecular subtypes of SCLC, and that SCLC subtypes demonstrate plasticity in mouse and human tumors. Her work has identified multiple therapeutic vulnerabilities for molecular subsets of SCLC, including the observation that SCLC subtypes are metabolocally distinct with MYC-high SCLC uniquely dependent on arginine.