LCRF Together in Chicago is first in-person educational event in two years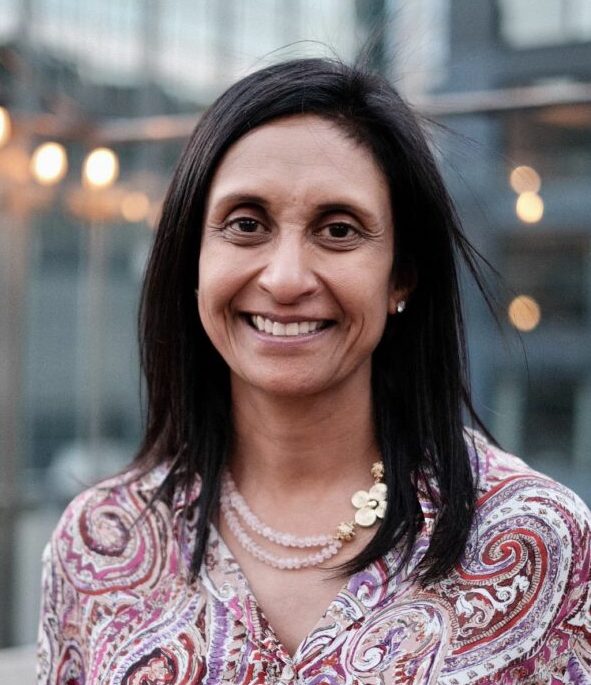 Dr. Jyoti D. Patel from Northwestern Memorial Hospital's Robert H. Lurie Comprehensive Cancer Center joined LCRF on June 28 in Chicago for its first LCRF Together event. Dr. Patel spoke about what's been happening in the lung cancer space recently.
Patient advocacy
Dr. Patel sees a greater emphasis on patients in foundational science, and patient advocacy is playing a bigger role than ever.
"The focus of everything we do is make people live longer with good quality of life. We can calculate and tabulate what survival looks like, but what's patient centered, and what's meaningful? We rely on patient advocates to help us frame those questions," she said.
"What has really changed is that lung cancer used to be one thing, with maybe three or four drugs to treat it. Now we have subsets we can target in different ways, and advocacy is really important for these subsets of patients." As an example, Dr. Patel noted that NRG fusions are getting a lot of attention, and people are connecting on social media. "Imagine if you were in rural Oklahoma, where you might be the only person with that mutation. It's important to have these groups to learn from and lean on."
Dr. Patel said that understanding these subsets is key, because some 50% of lung cancers have a targetable mutation. "We've come a long way," she said. "We are learning so much about sequencing of therapies, toxicity, and how to mitigate resistance. Things are rapidly moving. It's exciting if your cancer has one of these mutations that we have learned much about. But most patients still don't have targetable mutations or will have only limited benefit from targeted therapies."
Early stage disease
"The best outcomes for patients are when you catch lung cancer early," Dr. Patel pointed out. "Screening populations at high risk reduces mortality. While an expansion of screening eligibility means 14 million people are now eligible for screening, many people still would never meet the criteria."
She explained that those with early stage disease, confined to the lung or lymph nodes, surgery is the best treatment. Chemotherapy is used to help make sure the cancer doesn't come back. "Getting immunotherapy after surgery decreases the likelihood lung cancer comes back – event-free survival – and we hope that translates to overall survival."
Neoadjuvant therapies
About 30% of patients receiving immunotherapy experience side effects, said Dr. Patel. "Many are treatable and manageable, but they impact your life. And we still don't know what that means 10 years down the road."
Another approach is to start treatment before surgery, which could make tumors more resectable and allow for physical therapy or presurgical optimization. If the treatment isn't helping after 6-8 weeks, the medication is stopped and the patient proceeds to surgery. Immunotherapy with this neoadjuvant approach leads to high rates of response and tumor downstaging, but it's difficult to determine which patients will benefit the most.
"We are trying to teach cells to know what the bad cells look like," she explained. "But when the tumor is removed, the immune response might not be so strong because there are far fewer bad cells to react to. So this is one of our next questions: do we choose immunotherapy and chemotherapy before or after surgery?"
Brain metastasis
"Most of my patients fear brain metastasis the most, and I can say very clearly that we have multiple options now that we didn't have 20 years ago," she said. Before, the entire brain would receive radiation, and that came with a number of problems. "We've learned how to do it more safely, and outcomes are better. We have techniques to treat very small areas of the brain and pinpoint the radiation."
The brain barrier is effective at keeping out microorganisms, and research has led to the development of drugs such as Tagrisso with small molecules that can get through the barrier much more easily. "Some exciting data was shown at ASCO. Immunotherapy can be effective in the brain. And trials are addressing conditions that used to be exclusions for clinical trials – such as HIV and hepatitis."
The "plus one"
"Oncologists want to know Plan A, B, and C," Dr. Patel said. "One of the pieces that can be frustrating is having to get another biopsy to find out what drug to go to next. We are looking to refine what that next drug looks like. An exciting approach now is: what's the plus one? If an immunotherapy stops working, is there something we can add to make it more effective again? The idea is to reinvigorate and get the t-cells fighting again."
She also advocates for paying attention to what other conditions are present. "Most people with lung cancer don't go by the book. Sometimes people have other medical problems, sometimes not." People with autoimmune conditions, for example, can and do participate in clinical trials. In the case of overlapping toxicities, substitute medications can be found.
Education and advocacy
Dr. Patel urged patients to come to events like LCRF Together. "The best partners are those who are advocates, ask questions, and make decisions together with their medical teams. Any time you can provide your own information to help design a study or help a trainee, it's extraordinary."
"We need to demand that industry and academic centers make trials accessible and patient centered. Enrolling in and talking about research is the only way to make meaningful progress. Funding is absolutely critical – so much is not funded by medical centers, and grants are essential."