NEW YORK, NY (June 22, 2020) — The Lung Cancer Research Foundation (LCRF) today announced that Trudy Oliver, PhD, has joined its Scientific Advisory Board. Dr. Oliver is an Associate Professor of Oncological Sciences at the University of Utah's Huntsman Cancer Institute (HCI), where she has served since 2011, and is an HCI Endowed Chair in Cancer Research. Serving on a number of administrative committees, Dr. Oliver has also actively participated in several strategic initiatives at HCI.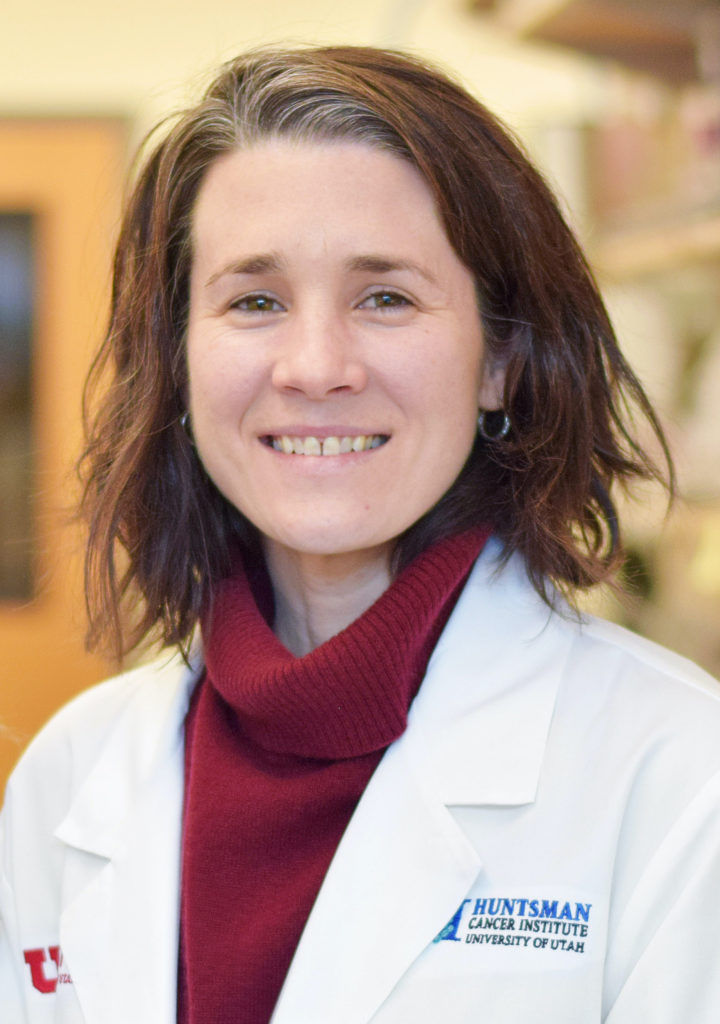 Dr. Oliver obtained her PhD in pharmacology and cancer biology from Duke University, working in Rob Wechsler-Reya's laboratory. Following graduate school, she joined Terry Van Dyke's laboratory at the University of North Carolina – Chapel Hill, and then completed her postdoctoral fellowship in Tyler Jack's laboratory at the Koch Institute for Integrative Cancer Research at MIT before joining the University of Utah and Huntsman Cancer Institute in 2011. Her research is devoted to understanding mechanisms of cancer biology with a focus on lung cancer; she has developed novel mouse models of squamous and small cell lung cancer using experimental approaches including an integration of mouse genetics, molecular and cellular biology, biochemistry, genomics, preclinical therapeutics and in vivo imaging.
Dr. Oliver is a 2018 recipient of LCRF's Wiliam C. Rippe Award for Distinguished Research in Lung Cancer, which supported, in part, her laboratory's continuing study of the MYC genetic alteration that drives how small-cell lung cancer (SCLC) tumors develop. Her research discovered that SCLC tumors caused by the MYC protein are more aggressive, spread faster and respond differently to therapy. Her team discovered that ADI-PEG20, an enzyme that breaks down the amino acid arginine, is highly effective in MYC-positive genetically-engineered mouse models and human patient-derived tumors, resulting in a promising breakthrough. She is also personally affected by lung cancer; her mother's low-dose CT scan showed a nodule that they chose to monitor – which helps to fuel her passion for changing outcomes for patients living with lung cancer.
"I am excited to welcome Dr. Oliver to LCRF's Scientific Advisory Board and look forward to working with her to continue the Foundation's commitment to funding outstanding lung cancer research and investigators," said Dr. Katerina Politi, Chair of LCRF's Scientific Advisory Board. "Her commitment to improving outcomes for lung cancer patients is reflected in her work, and we're thrilled she has joined us."
Dennis Chillemi, Executive Director of LCRF adds, "Dr. Oliver's expertise in lung cancer biology has already made a significant impact on the lung cancer community, and we look forward to her valuable input as a member of the Scientific Advisory Board."
LCRF's Scientific Advisory Board includes renowned scientists, physicians and thought leaders spanning a broad range of disciplines in lung cancer research who leverage their collective experience and expertise to maintain the objectivity of the grant selection process and help to ensure that LCRF continues to fund research of the highest caliber. The group is responsible for the review of grant applications and providing opinions and strategic input to LCRF's Board of Directors on relevant topics. Members are selected and recruited based on their level of expertise, prominence in the field of lung cancer research, and commitment to LCRF's mission.
# # #
About the Lung Cancer Research Foundation®
The Lung Cancer Research Foundation® (LCRF®) is the leading nonprofit organization focused on funding innovative, high-reward research with the potential to extend survival and improve quality of life for people with lung cancer. LCRF's mission is to improve lung cancer outcomes by funding research for the prevention, diagnosis, treatment and cure of lung cancer.
To date, LCRF has provided $34 million in research grants to investigators around the world. In addition to funding lung cancer research, the organization focuses on lung cancer awareness and educational programs. The Foundation also hosts community events nationwide through its Free to Breathe® Events Program.