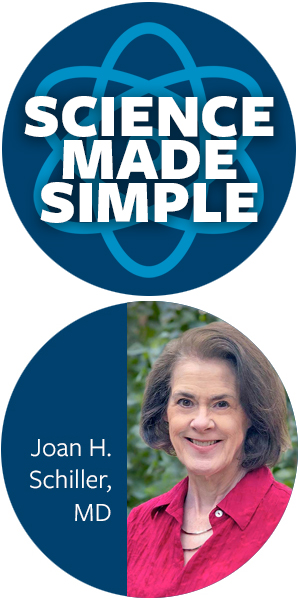 The good news:
Two pieces of good news, actually… (1) the FDA has approved a new, targeted drug for patients with HER-2 positive NSCLC: trastuzumab deruxtecan (T-DXd or Enhertu©), and (2) it has a unique mechanism of action that will open the door to a new class of drugs: antibody-drug conjugates, or ADCs.
Who it impacts:
Patients with advanced or metastatic non-small cell lung cancer for whom a first-line therapy has failed, and whose tumor harbors a mutation in HER-2 gene.
Why it's significant:
Unlike breast cancer, HER-2 mutations are rare in non-small cell lung cancer (about 5% of all NSCLCs). Until now, there has been no drug approved for specifically targeting these mutations, as there have been for tumors with EGFR mutations, for example.
T-DXd is an antibody hooked up to a type of chemotherapy (a topoisomerase I inhibitor). When given intravenously, the antibody portion of the molecule binds to cells with a mutated HER-2 on their surface. The molecule is taken up by the cancer cell, and the linker between the antibody and the chemotherapy drug is broken, so the drug will be delivered very specifically only to cancer cells that have a mutated HER-2.
The drug was approved based up a clinical trial (DESTINY-Lung02), which reported an impressive response rate of close to 60% in these previously treated patients. This was a conditional approval, meaning that because of the exciting results, the FDA will allow T-DXd on the market. However, since DESTINY-Lung02 was a small study, the manufacturer will need to conduct a larger, confirmatory Phase 3 study to get full approval. T-DXd has been approved for breast and gastric cancers, but this is the first time an antibody-drug conjugate has been approved for the treatment of lung cancer patients, so this can also be seen as a "proof of concept" for ADCs.