By Eugene Manley, Jr., PhD
Director, Scientific Programs, LCRF
The International Association for the Study of Lung Cancer (IASLC) 2021 World Conference on Lung Cancer (WCLC 2021) took place September 8-14, drawing over 6,000 registrants from more than 500 countries. WCLC is the only global network dedicated solely to the study of lung cancer and other thoracic malignancies, and the meeting featured many updates in NSCLC, SCLC, immunotherapy, combination therapies, disparities, clinical trials, and other diseases associated with lung cancer. Below are some highlights from WCLC presentations.
Non-small cell lung cancer (NSCLC)
NSCLC comprises 80-85% of lung cancers, and its three subtypes are adenocarcinoma, squamous cell carcinoma, and large cell carcinoma. Updates are listed by NSCLC driver mutation.
ALK
EML4-ALK fusion (echinoderm microtubule-associated protein-like 4) and anaplastic lymphoma kinase (ALK) forms condensates via separation, and this phase separation drives downstream JAK/STAT signaling in cells and promotes tumor growth in mouse models.
EGFR
The Adenoviral Cre-lox system was used to create virally induced EGFR -Δ19 and -L860R transgenic mouse models and cell lines. Virally induced EGFR -Δ19 cell line produced mouse xenografts that were sensitive to osimertinib and gefitinib, and in orthotopic models they were sensitive to osimertinib. This demonstrates use of viral delivery to understand tumor biology and resistance.
LCRF Scientific Advisory Board Chair Dr. Katerina Politi discussed treatments for EGFR-mutant lung cancer that included 1st or 2nd (erlotinib, gefitinib, afatinib, dacomitinib), and 3rd generation (osimertinib) tyrosine kinase inhibitors (TKIs) in the absence and presence of resistance.
Current EGFR mouse models are limited in that secondary mutations in EGFR mediate resistance to TKIs at 5x the rate of patients.
EGFR / HER2 Exon20 insertion mutations
Mobocertinib (TAK-788) inhibited growth in HER2 exon 20-mutated cell lines, patient derived xenografts (PDXs), and Genetically Engineered Mouse Models (GEMMs). The combination of mobocertinib and ado-trastuzumab emtasine (T-DM1; Kadycla) had the greatest impairment of tumors resistant to mobocertinib as a monotherapy.
EXKIVITY™ (mobocertinib) was granted FDA approval for EGFR exon 20 Insertion NSCLC on Sept 15, 2021.
Globally EGFR exon 20 insertion mutations are present in 0.1 to 4.0 % of patients with advanced NSCLC, representing 4 to 10% of all EGFR-positive NSCLC.
Current EGFR exon 20 therapies include mobocertinib, osimertinib, DZD9008, amivantamab, poziotinib, and CLN-081.
KRAS
The Phase 2 CodeBreak 100 trial in KRAS G12C mutant NSCLC showed that patients who received orally administered sotorasib had a 37.1% response rate and the treatment was effective across patient subgroups.
Additional KRAS G12C inhibitors in Phase 1 and 2 trials are D-1553, JDQ443, and JAB-21822.
Additional KRAS G12C inhibitors in Phase 1 trials are GDC-6036, LY3537982, BI 1823911, and GFH925.
The other KRAS G12C therapy given FDA breakthrough designation in June 2021 was adagrasib (MRTX849), which is currently in Phase 3 clinical trials.
Lysyl oxidase (LOX) is primarily known for its role in crosslinking collagen to strengthen bone and is the last step in collagen biosynthesis. LOX also plays a role in cancer, and LOX inhibition promotes lung adenocarcinoma (LUAD) to squamous cell carcinoma (LUSC) transdifferentiation (AST) and drug resistance in the KP model. The KP genetically engineered mouse model mimics human KRAS-driven LUAD.
MET
Genomic profiling comparing tissue to liquid biopsy in more than 78,000 patients with NSCLC showed 4.7 and 3.3% of patients, respectively, were fusion positive for MET-driven acquired resistance (AR) to tyrosine kinase inhibitors (TKIs). About 1.8% of NSCLC samples with fusion/rearrangements harbor ≥ 1 concurrent MET alterations. Of the co-occurring MET alterations, 67% were amplifications and 16% were MET exon 14 splicing variants.
RET
In the Phase 2 LIBRETTO-321 trial, Chinese patients with advanced RET-fusion positive NSCLC were treated with selpercatinib (LOXO-292) and there was antitumor activity for pre-treated and treatment naïve patients with ORR of (72.2% vs 90.9%), respectively.
Pralsetinib (BLU-667) showed antitumor activity in Chinese patients as part of the ARROW study with advanced RET Fusion+ NSCLC in the presence or absence of prior platinum-based chemotherapy (objective response rate/ORR = 66.7 vs 80%, respectively), safety was manageable, and 10% of patients discontinued due to treatment related adverse events (TRAEs).
Other RET inhibitors in clinical trials are TPX-0046 (NCT04161391), BOS-172738 (NCT03780517), and TAS0953/HM06 (NCT046883250)
Other therapies/treatments/omics mouse models
Multiple -omics approaches including protein: immunohistochemistry (IHC) and antibody arrays, DNA: Whole Exome Sequencing (WES), Methylation Sequencing, RNA: RNA-Sequencing, and arrays were used to characterize the changes in transformation from LUAD to LUSC. The PRC2 complex, as well as AKT and MYC signaling may drive transformation. In patient derived xenografts (PDXs) that behave like LUSC when becoming osimertinib resistant, the combination of osimertinib plus either ORS1 (EZH2 inhibitor/epigenetics) or samotolisib (AKT/mTor inhibitor) impairs tumor growth. In the PDX in treatment-naïve models EHZ2 inhibition had no impact on tumor growth, osimeritinib had a long delay before tumors grew, and the combination generally prevented tumor growth. This suggest that epigenetic modulation may prevent LUSC transdifferentiation.
There was a retrospective study from UPenn that assessed death from intercurrent disease (DID) after patients with locally advanced NSCLC were treated with either proton- or photon-based chemoradiation. DID is defined as death in the absence of disease progression. While the proton-treated group tended to be on Medicare, older, had more cardiovascular comorbidity, and longer smoking history; after adjusting for age, they had reduced risk of DID and reduced normal tissue exposure.
Combination therapies
The Phase 2 TRAEMOS trial of T-DM1 + osimertinib (tastuzumab-emantasine-osimertinib) in EGFR+ NSCLC patients to target HER2 bypass showed limited impact and is not recommended for further clinical evaluation.
The Phase 1 study pelcitoclax (APG-1252), a Bcl-2/Bcl-xL inhibitor, administered intravenously with osimertinib in EGFR TKI resistant NSCLC has minimal activity in patients with acquired resistance to osimertinib (ORR = 5%), but some moderate activity in osimertinib naïve patients (ORR =36.4%).
The Phase 1 study of afatanib + osimertinib in patients who had prior failed osimertinib therapy showed minimal activity.
Small Cell Lung Cancer (SCLC)
Approximately 10-15% of lung cancers are SCLC, characterized by late discovery, high aggressiveness, high metastatic potential, and high tendency to relapse. Patients with SCLC tend to have less favorable outcomes and no optimal therapies for this disease.
Biomarkers and therapies for SCLC are limited.
SCLC tumors are known to have high rates of DLL-3 Positivity (see biomarkers).
The Phase 3 ATLANTIS trial compared efficacy of lurbinectedin/doxorubicin versus CAV or topotecan (Topo) in relapsed SCLC patients treated with 1 prior chemotherapy. While the Phase 2 study was promising, this trial was not. Lurb+Dox did increase PFS (5.9 mo vs 4.6 mo) and decrease toxicity compared to control, however, there was no difference in the primary endpoint of OS (8.6 months vs 7.6 months). Less toxicity was present in the treatment arm.
Disparities
Generally defined, a health outcome disparity is a result seen to a greater or lesser extent between populations. Some factors include race, ethnicity, socioeconomic status, sex, sexual identity, age, income, disability, geographic location, and environment.
Dr. Ray Osarogiagbon showed that while lung cancer incidences and mortality rates are highest in in the Mississippi delta region, the majority of the NCI designated cancer centers and LDCT (low-dose computed tomography) screenings are performed in the northeast and western United States. Black, Latino, and Asian Americans as well as women are still much less likely to be eligible for LDCT screening based on USPSTF criteria. However these groups' eligibility is better now than under the previous version. While Black Americans are 12% of the population, they represent 9% of patients in the NCI SWOG Cancer Research Network and 2.9% of patients in pharmaceutical company-based clinical trials, respectively. In essence, people and regions with worse outcomes are not getting screening or access to trials, and multi-level interventions targeting social policies, institutions, providers, and patients need to be implemented for equitable care.
A global study of disparities showed that Asia, Latin America, and Africa have greater rates of lung cancer mortality relative to lung cancer incidence when compared to the U.S. and Europe. Globally, PD-L1 clones for histology vary in usage, molecular testing varies, and results can be impacted by training, infrastructure, and costs. While there are multiple therapeutic options for target driver mutations in the U.S. and Europe, in South America and South Africa there are disparities in public vs. private facilities, drug availability, and drug costs.
In Latin America, less than half of patients are tested for EGFR or ALK mutations.
Black and Latino Americans are more likely to be diagnosed with advanced-stage lung cancer.
Many Latin American countries are underrepresented in clinical trials, and screenings based on U.S. and European populations may not capture actual frequency of driver mutations in Latin America.
Driver mutation frequencies/prevalence differ in some Latin American countries.

Brazil: ALK – 10.2%, EGFR – 15%, KRAS – 23%, MET- 5%

Chile: ALK – 3.8%, EGFR – 12%, KRAS – 16%, MET – 6%

Peru: ALK – <3%, EGFR – 24%, KRAS – 9%, MET -4%

MSKCC: ALK -3.2%, EGFR- 27%, KRAS – 27%, MET -3%
Low- and middle-income countries spend less on cancer control.
In Latin America, barriers to tyrosine kinase targeted therapies and immune checkpoint inhibitors occur at three levels: the health system, regional/hospital level, and at the patient level.
Dr. Ricardo Terra used a retrospective database to create a six-level Sao Paulo Vulnerability Index (IPVS) that integrated income, education, health care access, street conditions, zip codes, and social variability. Even when diagnosed early, IPVS is an independent risk factor of mortality in patients who received surgical treatment.
Screening
Lung cancer is one disease where screening and early detection can lead to much better outcomes. However, there are still barriers to increasing screening awareness and access, interpretation, and following-up with those not likely to stay engaged.
Recommendations to increase adherence of high-risk patients include

Reduce barriers of transportation access by using mobile CT scanners and providing complementary transportation

Ensure physicians know the updated USPSTF screening guidelines

Address gaps in tobacco users' knowledge regarding LDCT

Discuss benefits and potential harms

Several trials are underway in Europe to test correlation of LDCT with predictive biomarkers in blood
The UK has developed the Targeted Lung Health Checks (TLHC) program that uses mobile clinics to bring LDCT screening to populations most deprived and those of low socioeconomic status.
Italy has developed the Rete Italiana Screening Polmonare (RISP) to in part recruit 10,000 smokers, centralize LDCT images, biobank blood nationally, and integrate prevention strategies.
In Latin America, screening challenges include lack of continuous screening programs, low access to specialized medicine, diagnostic and therapeutic errors, lack of quality data, and lack of structured data for machine learning.
In Brazil, the Propulmão Mobile Project (PMP) uses a truck for mobile LDCT screening, which brings screening directly to patients in hard-to-reach places that would normally be excluded.
In Asia, LDCT issues include screening population, screening protocol, CT reading modalities, criteria for positive screening and management of lung nodules.
Biomarkers
Given the updated guidelines and speed with which omics can interrogate the genome, it has been argued that NGS testing should be part of a comprehensive genomic testing plan for all patients, though the drawbacks to this are costs, high sample input, and potential longer turnaround times.
Current NCCN guidelines for biomarker testing in NSCLC patients is that testing should be a broad panel-based approach. Biomarkers for NSCLC patients are: NTRK, ROS1, ALK, BRAF, EGFR, KRAS, ERBB2 (HER2), MET (ex14 skipping and amp), RET, TMB, and PD-L1. While many patients are tested for at least one biomarker, the percentage drops when five biomarkers are tested.
Phase 1b EPICAL trial combined anti-EGF vaccination with afatanib in patients with advanced EGFR-mutant NSCLC showed ORR 78%, DCR 96%, and m PFS =17.4 months. Vaccine reduced EGF in serum after 3 months, but not significant changes in TGFα. However, this was a small number of patients, so more data is needed.
The Phase 1 TROPION-PanTumor01 trial in heavily pretreated NSCLC patients of the antibody drug conjugate (ADC) Datopotamab Deruxtecan (Dato-DXd) with humanized anti-TROP2 monoclonal antibody and DNA Topoisomerase I payload showed antitumor activity (ORR = 28%) and median DOR (10.5 months) in patients resistant to chemo or immunotherapy.
Regardless of prior anti-PD1 therapy, the Phase 1 combination of intratumoral delivery of Nanobiotix's NBTXR3+SBRT+nivolumab or pembrolizumab led to tumor regression in patients with advanced lung cancer and was relatively well-tolerated. NBTXR3 + SBRT may activate the immune system.
Two studies attempted to correlate immune related adverse events with response to immunotherapy as a predictor of better outcomes. However, both studies had conflicting results. These discrepancies may be due to when the data was gathered, and one trial only used on Iimmunotherapy but the other trial used multiple immunotherapies. No resolution is apparent.
Immunotherapy
The Phase 3 POSEIDON study was a global randomized open-label multicenter study where Stage IV metastatic NSCLC patients without EGFR or ALK mutations were treated with durvalumab (anti PD-L1) ± tremelimumab (anti-CTLA-4) + chemotherapy (D+T+C vs D+C) as a first-line treatment. D+CT increased PFS and OS compared to CT alone. D+T+CT increased PFS, ORR, and OS, but adding the anti-CTLA-4 increases toxicity. This extra toxicity needs to be considered when determining if CTLA-4 should be added to a treatment regimen.
The Phase 3 IMpower010 trial evaluated resected tumors from patients with Stage IB-IIIA NSCLC who were given 4 cycles of adjuvant chemo and then randomized to receive atezolizumab (anti-PD-L1) or best supportive care for 1 year. DFS was significantly increased with atezolizumab in PD-L1 >1% Stage II-IIIA (HR=0.66) and in Stage II-IIIA patients regardless of PD-L1 expression with a HR of 0.79.
LCRF Scientific Advisory Board member Dr. David Carbone presented the post-hoc two-year follow-up analysis of the Phase 3 CheckMate 9LA trial of patients with Stage IV or recurrent NSCLC, no EGRF or ALK mutations, and with or without brain metastases treated with nivolumab (NIVO) + ipilimumab (Ipi)+ 2 cycles chemo or chemo. The combination still increased PRS, ORR, and DOR regardless of the presence of brain metastases at start of treatment. The combination also reduced the development of new brain lesions.
COVID-19, Lung Cancer, and Clinical Trials
The COVID-19 pandemic has created many issues for running clinical trials, screening, and elective procedures.
While most lung cancer patients mount sufficient antibody titers with SARS-CoV-2 vaccine, a smaller subset of patients has a lower level of antibody induction. These patients will need to be followed to understand why they are producing lower titers, and if this will impact their susceptibility to COVID-19. Of the fully vaccinated cancer patients, there were no differences by sex, smoking status, age, or immunotherapy.
An Italian study showed that lung cancer diagnoses were reduced, less patients enrolled and were treated in clinical trials, fewer clinical trials were run, and more patients being diagnosed with Stage IV lung cancer when 2020 was compared to 2019.
A Dutch study showed that extended intervals in immunotherapy dosing for patients with NSCLC during COVID caused no real changes in efficacy or toxicity. The treatments were changed during this trial from academic centers to non-academic sites. This outcome suggests that this approach could be applied clinically after COVID-19, but more studies would need to confirm these findings.
While patient enrollment in trials decreased between 2020 and 2019, patients' requests to organizations for support and advocacy materials increased. . However, many organizations have seen reduced budgets and are providing information with fewer staff resources.

IASLC studied the impact of COVID-19 on global lung cancer clinical trials. The study surveyed groups and assessed trial enrollment between 2019 and 2020, finding significant decreases in clinical trial enrollment and in patients per trial throughout 2020, especially April through August. Issues faced by study sites include fewer eligible patients, facility closures, and staff availability. Patient reported concerns and challenges included willingness to travel, ability to travel, securing transportation, trial site access, travel restrictions, and fear of COVID-19 infection. Mitigation strategies which increased screenings include telehealth, local labs and screenings, and mail-order prescriptions. Flexibility may in the long term improve access and compliance in all clinical trials.

Factors associated with risk of severe COVID-19 infections in lung cancer patients include Stage IV disease, increased age, elevated creatinine levels, and anemia. Factors associated with death from COVID-19 infections include recent surgery, diabetes, checkpoint inhibitor therapy, low neutrophil or lymphocyte count, and elevated creatinine levels.
ADCs (antibody drug conjugates)
ADC are therapies with an antibody that targets a protein, a linker that is often cleaveable, and a cytotoxic payload (therapy). ADCs are internalized to bring the payload to the target on a more local level and can reduce systemic toxicities.
Dr. Hidetoshi Hayashi indicated some ADCs in development for NSCLC. DXd is a Topoisomerase I inhibitor, typically administered in first-line initial therapy or as a second dose in oncogenic driver mutation resistance to targeted therapy.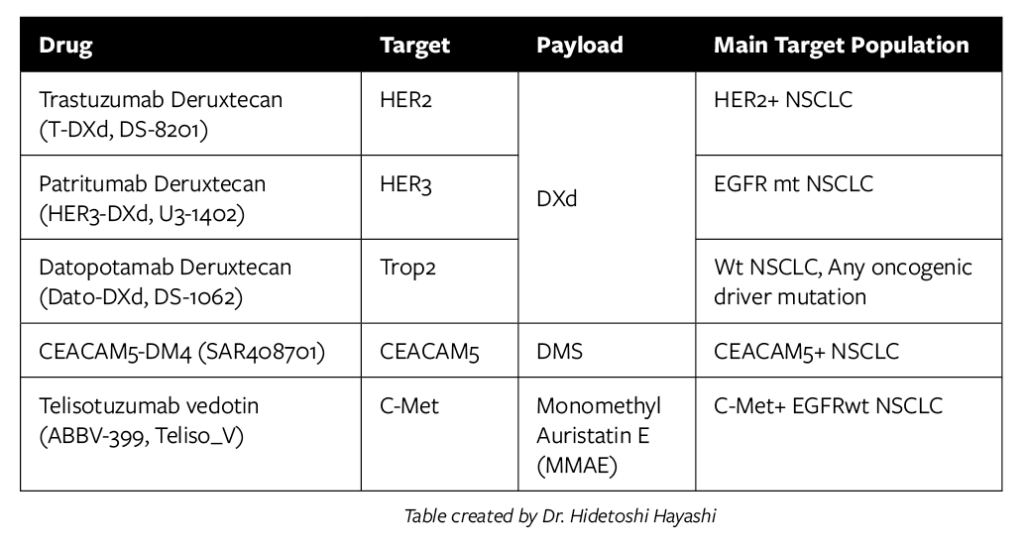 ADCs for SCLC target DLL3 (rovalpituzumab tesirine, Rova-T, SC16LD6.5), TROP2 (sacituzumab govitecan), or CD56/NCAM1 (lorvotuzumab mertansine, IMGN901). Rova-T is DLL3 antibody linked to the cytotoxic agent pyrrolobenzodiazepine with a protease-cleavable linker. While these are in various stages and several had no impact on PFS or OS, some are still in progress, and one had a positive outcome.

A Phase 1 study had 18% response rate and 38% in DLL3 high SCLC patients.
A Phase 2 Trinity study targeting DLL3 with Rova-T showed an ORR of 12.4% in all patients, and 14.3% in those with DDL-3 high SCLC.
Ph3 TAHOE trial for second-line therapy in patients with DLL3-high advanced or metastatic SCLC were treated intravenously (i.v.) with Rova-T or intravenous topotecan (Topo), and the OS decreased in the Rova-T arm vs topo (6.3 vs 8.6 mo). Rova-T is recommended not to replace Topo for SCLC patients.
The Phase 3 MERU trial assessed Rova-T as a maintenance therapy for SCLC patients who had received platinum-based doublet chemotherapy and observed no improvement in OS when compared with the placebo (8.5 vs. 9.8 months).
A Phase 1/2 study showed while Rova-T +nivolumab had ORR of 27.6 %, mPFS 28 months, and mOS of 7.4 months, that Rova-T+Nivo+ipilimumab increased ORR to 36.4% and mOS to 11 months. Unfortunately, there was also serious toxicity when ipilimumab was combined to treatment in patients with extensive stage SCLC.

Sacituzumab govetican in pretreated SCLC patients (TROP2)

Phase 1 trials showed 14% ORR in SCLC patients.
A Phase 1/2 IMMU-132-01 basket trial showed ORR of 17.7%, mPFS of 2.7 mo, and mOS of 7.1 mo.

CD56

A Phase 1/2 trial using IMG901 in combination with carboplatin/etoposide had no impact on PFS (6.7 s 6.2 mo) or OS (11 vs 10.1 mo).

Mesothelioma

Anetumab ravtansine targeting mesothelin showed ORR increased to 31% when dosage was increased from 1.8 to 2.2 mg/Kg.
In the Phase 2 trial when anetumab ravtansine was compared to vinorelbine in patients with malignant pleural mesothelioma, there was no impact on PFS or OS.
Therapies still need to be optimized.

Combination strategies to increase/augment ADC activity in NSCLC include increasing ADC delivery, modulating antigen dynamics, potentiating cytotoxic agents, and promoting antitumor immunity.
Other Topics
Management of patients during and after treatment
Fatigue may be severely underreported in trials, and it has the most impact on patient outcomes.
Speech pathology may be considered as part of a patient's care team as surgery and/or therapies can impact swallowing, breathing, and speaking patterns.
Motivational interviewing includes engaging, focusing, evoking, and planning and encourages more empathy and patient-centered care. This can increase quality of life, decrease fatigue, and increase outcomes.
A multimodal intervention was developed for cachexia (severe loss of skeletal muscle mass and fat) in patients with lung cancer that includes targeted exercise, medical nutrition therapy, physical symptom management, and psychological symptom management. Early intervention and individualized program development is most effective.
As patients with cancer are living longer due to the development of targeted therapies, there are considerations that should be made for long-term survivors. Patients with Stage III NSCLC have higher distress and they should be counseled on maintaining a healthy lifestyle, tobacco cessation, undergoing age-appropriate screenings, vising primary care physician for non-oncology related health, and emotional support via presence of a support team including family, close friends, caregivers, and support groups.
Air Pollution
Dr. Joan Schiller, member of LCRF Scientific Advisory Board, and Dr. Christine Berg showed that 14.1% of all lung cancer deaths worldwide are due to air pollution independent of smoking status, with the highest rates in Eastern Europe and China. Sources include particulate matter in air, fossil fuel production, transportation, and indoor cooking modules. These places also have high smoking rates. Drs. Schiller and Berg advocate for stronger global clean air programs to reduce these deaths.
Stigma
Jill Feldman from EGFR Resisters discussed how people's assumptions, lack of compassion, and harsh judgements make it difficult for patients and survivors to feel supported. Lung cancer is one of the few cancers that people will blame on the patient, not recognizing that anyone can get lung cancer.
While smoking is a high risk for lung cancer, there is now plenty of evidence of environmental, air pollution, radon, asbestos, genetic, and geographic factors that can influence lung cancer risk.
More attention is being given to the occurrence of lung cancer in never smokers (LCINS), which may result from the decrease in US smoking rates from the 80s to today. LCINS patients tend to have different molecular make up in their cancers, and standard therapies will not work for them.
The real question is how do we incorporate LCINS patients into screening, when they currently do not meet screening criteria?
Dr. Jamie Studts discussed a multipronged approach reduce stigma that occurs through the lung cancer control continuum including empathy, compassion, support, persistence and making teams more supportive instead of destructive.
Drs. Jamie Ostroff and Smita Banerjee developed a three-tier Empathic Communication Skills (ECS) program that teaches clinicians to how to be more empathic with their patients. Strategies include changing how clinicians interact with patients and how they phrase questions. Those who completed the training were better at engaging with their patients.
Dr. Suzanne Chambers in Australia showed that stigma can impact mental health leading to feelings of guilt or shame, threatened personal identity, impaired social life, reduced economic opportunities, as well as greatly impacting families and significant others.
Dr. Kazuo Hasegawa from the Japan Lung Cancer Alliance talked about the negative impacts of stigma on self-esteem and those seeking care. He described about a program in Japan that taught students about stigma, finding than those who received training from patients demonstrated less stigma towards patients than those who received teacher-led training.
Implicit Biases in Oncology Care
Social determinants of health contribute to persistent health inequalities. In lung cancer, determinants include education, employment, socioeconomic status, and loneliness. Implicit biases can lead to health disparities, and they can be compounded by social determinants of health.
Racial implicit bias can impact clinical care, clinical trial access, drug development, and basic scientific research. These biases may lead to disparities in survival of minority patients. Providers should consider how their implicit biases may impact patient care and delivery.
In India, cancer is greatly stigmatized, and outcomes are negatively impacted by a lack of doctors, the cost of treatments, and unavailability of clinical trials.
In Canada, indigenous populations are underrepresented in trials but have worse lung cancer outcomes. Other barriers are inflexible work arrangements, travel time to appointments, urban vs rural commutes, education, communication gaps, and metro-centric bias.
---
References
References
U.S. Department of Health and Human Services, Food and Drug Administration, Oncology Center of Excellence, Center for Drug Evaluation and Research (CDER), Center for Biologics Evaluation and Research (CBER). Clinical Trial Endpoints for the Approval of Cancer Drugs and Biologics: Guidance for Industry. Published Dec 2018, Accessed Sep 26, 2021.
Barraclough H, Simms L, and Govindan R. (2011). Biostatistics primer: what a clinician out to know: hazard ratios. J Thorac Oncol. 6:(6), 979-82. PMID: 21623277
United States Adopted Naming (USAN Council). Accessed Sept 27, 2021
Geneva: World Health Organization (WHO). Guidance on the Use of International Nonproprietary Names (INNs) for Pharmaceutical Substances. Published 2018. Accessed Sept 27, 2021.
USAN Council newly approved Stems. Published June, 4, 2021. Accessed Sept 27, 2021.
Key Terms
Complete Response (CR) = No detectable evidence of tumor. Generally measured by imaging or histopathological assessment.
Disease Control Rate (DCT) =% of patients with advanced or metastatic cancer who have achieved complete response, partial response, and stable disease to therapeutic intervention. It is the
Disparities according to healthypeople.gov = If a health outcome is seen to a greater or lesser extent between populations, there is a disparity. Race or ethnicity, sex, sexual identify, age, disability, socioeconomic status, and geographic location all contribute to an individual's ability to achieve good health. It is also important to recognize the impact that social determinants have on health outcomes of specific populations.
Duration of Response (DoR) = Time from disease observation to disease progression
Hazard Ratio (HR)2 = A measure of how often a particular event occurs in one group compared to another group, over time. In oncology, it often is a ratio that measures survival at any time point during a trial of treated patients divided by survival of the placebo or control group. HR = 1 means there is no effect of the therapy on survival, HR>1 suggests that the treatment group will have shorter survival, and HR<1 means the therapy is more effective than the placebo and treatment group will likely live longer.
Objective Response Rate (ORR) = % of patients that responded to therapy (i.e., portion of patients with tumor size reduction of a predefined amount and for a minimum period of time). Seen as patients that had a partial or complete response to therapy, thereby shrinking or reducing the tumor).
Overall Response Rate = Proportion of patients with disease burden of a pre-defined amount. Often assessed in smaller single-arm trials and in earlier phases, and effects are due directly to the drug.
Overall Survival (OS) = % or length of time of survival after an intervention (i.e. time from randomization until death)
Progression free survival (PFS) = % or length of time of survival without disease progression (time from randomization until disease progression or death).
Quality of Life (QOL) = Patient self-reported outcomes using wellness scales, adverse events, and toxicity. Tells how the patient feels during and after the therapy.
SBRT = Stereotactic body radiation therapy
Toxicity = rate of adverse events
Drug nomenclature – Rules and regulations are applied to brand and generic drug naming guidelines in regard to active ingredients. We mainly recognize drugs by the suffixes for active ingredients.