2007 UALC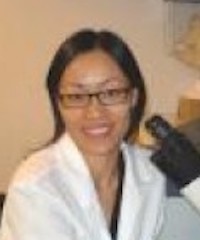 Yixuan&nbspGong, PhD
Memorial Sloan Kettering Cancer Center
Research Project:
Exploiting Apoptotic Pathways to Enhance Responses of Mutant EGFR-dependent Lung Adenocarcinoma to Kinase Inhibitors
Summary:
EGFR-therapies can be very effective against tumors harboring EGFR mutations; however, these drugs are much less effective against tumors that have metastasized. Dr. Gong is testing whether targeting cell death pathways can enhance the effectiveness of EGFR therapies, using a new class of drugs being tested in early phase clinical trials.
More Content:
Final Report
Dr. Gong has further identified how the cell death-regulatory protein BIM, and the upstream regulators ERK and AKT are involved in EGFR-TKI-induced cell death. The new cell death inducing-drug was able to show promising death-promoting effects in erlotinib-sensitive cell lines, but did not show enhanced activity when combined with erlotinib. However, the company supplying the drug is moving forward with a similar drug that may be more effective. Future studies using the new drug may yield better results. Additionally, this work will better inform future strategies targeting these two pathways to more effectively kill tumor cells.
Notable Accomplishments
Dr. Gong has published two journal articles on this project, and contributed work to three other lung cancer research publications. Additionally, work on this project was used as part of a larger award from the National Cancer Institute to MSKCC, totaling $1.8 million per year for five years.