As part of Lung Cancer Awareness Month, a new educational series, Take a Deep Breath: Improving your Lung Health in the Era of COVID-19, will take place over the course of four evenings Nov. 16-19. The series is presented by the Meyer Cancer Center Office of Community Outreach and Engagement, NewYork-Presbyterian Weill Cornell Medicine along with LCRF.
Knowing the facts about lung cancer and how to protect yourself against it is the first step to decreasing your chances of developing this devastating disease.
Taking a deep, relaxing breath can be difficult during these challenging times. As you navigate life in the ongoing era of COVID-19, learn how to take care of your lungs to prevent other non-cancer pulmonary (lung) illnesses.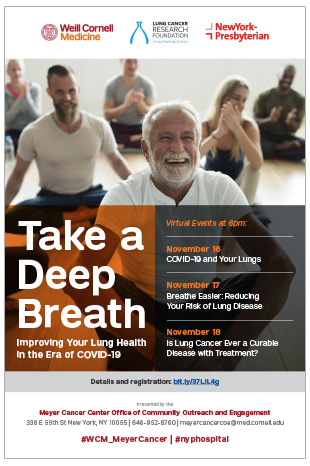 Speakers from NewYork-Presbyterian Weill Cornell Medicine will address the following topics:
November 16, 6 PM ET: COVID-19 and Your Lungs
November 17, 6 PM ET: Breathe Easier: Reducing Your Risk of Lung Disease
November 18, 6 PM ET: Is Lung Cancer Ever A Curable Disease with Treatment?
November 19, 6 PM ET: Programming in Spanish and Chinese (Mandarin/Cantonese)
You will also have the opportunity to ask questions during the panel discussion.
Regardless of your risk level for lung disease, the information presented will empower you to make educated lung health decisions as your own personal health advocate.
Find out more and register at LCRF.org/deepbreath.