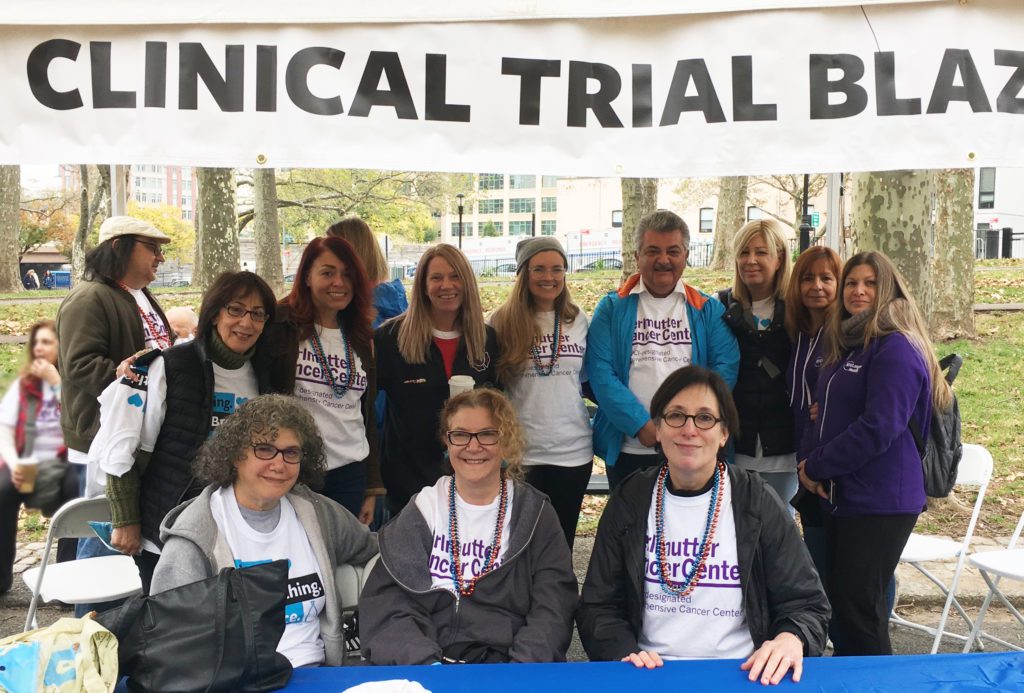 Hundreds of participants—lung cancer patients, survivors, and advocates, young and old— took part in the 2019 New York Free to Breathe Walk last October. On event day, dozens of walkers were greeted with a hug from the same woman, Catherine Paykin, LCSW-R. Catherine, a social worker at NYU Perlmutter Cancer Center, was the common link between so many of the smiling faces at this year's walk. She was team captain for NYU's 2019 team, NYU Perlmutter Cancer Center Clinical Trial Blazers, recruiting a team of a whopping 175+ members over the course of just a few short months!
Catherine, like so many Free to Breathe team captains, is a go-getter. In a short amount of time, she raised over $50,000, 10 times her original fundraising goal!! And do you know what's even more amazing? This was her first time as a team captain!
So how did Catherine do it? In addition to inviting her patients, she recruited Audrey Sheridan, LCSW from the Brooklyn Perlmutter Cancer Center to rally forces in Kings County. Together they enlisted the help of eight NYU Perlmutter Cancer Center doctors, who in turn invited their patients to walk with them. And Catherine didn't stop once people joined the team! She continually encouraged team members to set up their own personal fundraising goals and reach out to their family and friends for donations. She also provided updates to her team members on the top fundraisers and offered tips to help the team hit their next fundraising target.
Becoming a top fundraiser is much more doable than it might seem. Just keep Catherine's words in mind: "Walking and raising money for research was a concrete way of letting my patients and families know that they are not alone. Our team of scientists, researchers, healthcare providers who joined the patients and families to walk across the Brooklyn Bridge gave all hope and encouragement."