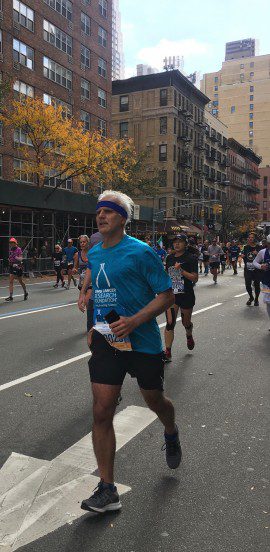 A team of 10 runners represented the Lung Cancer Research Foundation at the TCS New York City Marathon on Sunday, November 3. The group, made up of first-time marathoners and veterans alike, all ran in support of lung cancer research and awareness, a cause that hits close to home.
"As a thoracic oncologist myself who has worked for the last close to 20 years with countless patients suffering from lung cancer and who also actively participated in both clinical and translational research, I plan to run in memory of patients we have lost, in support of patients I am currently following and in great hopes for future generations of patients who we will be able to help better expecting great research advances ahead – as long as we can find the funding to keep our talented and motivated young scientists in our field through the help of foundations such as LCRF," said Team LCRF runner Dr. Balazs Halmos, shown at right.
Team LCRF crushed the marathon, and they also crushed their fundraising goal, raising over $70,000 for lung cancer research!