PORT WASHINGTON, NY – The 12th Annual Tom Zangas Memorial Lung Cancer Foundation/Archangel Michael 5K Run/1K Walk on Saturday, Oct. 26 pushed the foundation past a significant milestone. On a brisk, sunny fall day with flags fluttering in the wind, 150 runners and walkers participated at North Hempstead Beach Park helping to raise an additional $60,000 for lung cancer research bringing the total raised by the foundation since its inception to more than $500,000.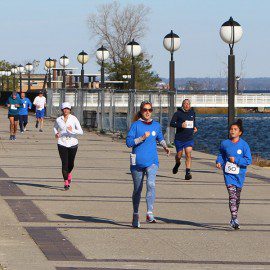 The foundation provides grants to the Lung Cancer Research Foundation (LCRF) and the Perlmutter Cancer Center at NYU Langone to fund important research and community outreach.
Race winner was Thomas Theofilators in a time of 20:55. Second was Erica Kinloch of Manhasset just behind in 20:57. This was the closest finish in race history and the highest finish for a woman.
Leonard Zangas, father of Tom Zangas, who started the foundation with his wife Penelope, thanked the crowd prior to the race for the continued support of the community and generosity of contributors. "Half a million dollars is a significant contribution to fight this horrendous disease and support research and outreach to underserved communities," he said. "It is a milestone that all of us should be proud of."
Sam Rogers of LCRF thanked the Zangases and the Tom Zangas Memorial Lung Cancer Foundation for their contributions over the years, noting how important the funding has been in supporting important research that is saving lives. He described the great strides in treatment since Tom Zangas become ill more than a decade ago.
Grants to LCRF and NYU Langone have funded a variety of research projects including prevention and screening for early detection; identification of new biomarkers and the development of targeted therapies; and development of next-generation chemotherapeutic agents. Many of these projects have led to new avenues of research and important discoveries and helped usher in the era of personalized medicine in lung cancer treatment.