March 2017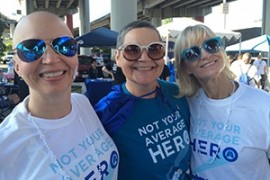 My mother died of lung cancer, and I was secretly worried I would, too.
In spring 2008, I had some puzzling health issues that brought me to number of specialists and finally a pulmonologist. I confessed during one of my appointments that I had smoked for several years, although I had quit 15 years earlier.
He did a spiral CT and told me in no uncertain terms that I did not have lung cancer. We continued the diagnostic journey, and he finally discovered a tracheal stenosis. Yet another specialist treated me with a procedure to dilate the trachea. What a relief it was to breathe more easily – in more ways than one. After many years of wondering, I finally knew that I did not have lung cancer.
A few months later, I started coughing up small amounts of blood. My doctor suspected sinus issues, but to be on the safe side, he went back in to look at my trachea. He found a tumor breaking through the lower lobe into the middle lobe of my right lung.
I had surgery to remove the lower and middle lobes of my lung and was diagnosed with Stage IIIa lung cancer. Following a fairly quick recovery period, I began four rounds of chemotherapy – two weeks on, one week off – with Cysplatin and Gemcytabin. That was hard. I was given a 38% chance of surviving five years. I agreed to participate in a phase 3 clinical trial for Erlotinib – Tarceva. Although my diagnosis was devastating, I knew I could survive.
After treatment, it took me some time to recover. I was working full time and began a vigorous exercise routine. It took about a year to feel healthy and strong again, but I finally felt great. I became quite a vocal lung cancer patient.
I wasn't prepared for the judging nods that whispered, "Lung cancer? Oh, you smoked, well…" The fact is that my smoking did not cause my lung cancer. My cancer and my mother's were both caused by radon, which is an issue in my home state of Oregon. I grew up in areas with especially high radon levels. I wanted to put a new face on lung cancer and didn't hide my diagnosis. I still don't. I educate others as often as I can about lung cancer and radon, particularly about the disparity in funding for lung cancer research.
Breathing issues return
Six years after treatment – in spring 2015 – I began experiencing new breathing issues. I wasn't too worried, as all my scans since my first post-surgical exam had been clean. My doctor discovered another tracheal stenosis. I joked, "Be careful now, the last time you went in there, I came out with Stage III lung cancer."
Little did I know, I had cancer cells in my lung near the original surgical site. Again, I was devastated. But the next day, I took a deep breath and figured out what to do next. The next several months were full of more tests, and even more differing opinions. They could remove the rest of the lung. High dose radiation and chemo had a 90% success rate.
Well, the cancer cells were located too close to my esophagus to risk high dose radiation, so the radiation oncologist was only comfortable with a low dose – which had a 30% success rate. After running multiple tests, my surgeon felt I could tolerate the complete loss of my lung. I chose the surgery, but the day before it was to take place, the surgeon called me with another option. He thought he could get rid of the cells with laser ablation in a simple office visit.
I had the ablation. Unfortunately, a biopsy one month later showed remaining cancer cells, and a new lymph node tested positive. I felt so lost. I didn't know who to trust or what to do. I knew I needed to decide on my next step, but I didn't feel capable of making that choice.
Finally, I called my original oncologist, who had moved out of state. I asked him if he would look at my scans and other test results and give me his opinion. A few days later, he called to say he agreed with my current medical oncologist – he felt I should undergo low dose radiation and chemotherapy.
I immediately relaxed and knew that was the right decision. I trusted him, and I was confident I could handle the treatment. After all, I'd done chemo before and radiation couldn't make it that much different. For six weeks, I underwent daily radiation and chemo – this time it was Cysplatin and Etoposide. I grossly underestimated the side effects of radiation. I'd managed to care for myself during my first bout with lung cancer, but never would have been able to do so the second time without the help of my sister. She was invaluable. I finished treatment almost a year ago. Although I'm not quite 100% better, I'm close.
Hope for the future
I remain optimistic for my future and the future of lung cancer treatment. I'm participating in a phase 2 clinical trial for a lung cancer vaccine, and the data is promising. I'm an active supporter of Free to Breathe (now merged with the Lung Cancer Research Foundation) and its specific focus on lung cancer research. (The photo at the top was taken at the August 2016 run/walk in Portland. My team is Positively Breathtaking!) I hope to work within the state of Oregon to improve the general public's knowledge of radon and its life-changing effects.
I appreciate the opportunity to share my story with you and would like to ask you to do two things. First, help me reduce the stigma and change the face of lung cancer.
Second, be your own advocate. Listen to your body. Find a healthcare provider that you trust instinctively. Both times I had lung cancer, my body tried to tell me something was wrong. If I had listened to those who recommended I stop at any point along my now eight-year journey, I believe the outcome would have been much more grave.
Springtime twice brought me a lung cancer diagnosis. This spring, I am beginning a new journey that brings me joy. I am frequently reminded of a quote by Christopher Reeve. "Once you choose hope, anything is possible."