Jeanne Coffey's life was changed when she was diagnosed with stage 3A lung cancer in 2015. After the cancer was detected in her left lung, she had surgery, chemotherapy and radiation treatment – only for the cancer to return in her right lung a few months later.
But Jeanne's life changed once again when she found out she had the EGFR mutation gene and was eligible for targeted therapy. "It's currently four years since starting targeted therapy, and I am living a fantastic life," she said. "I would not be, if not for the research done for this type of cancer over the years."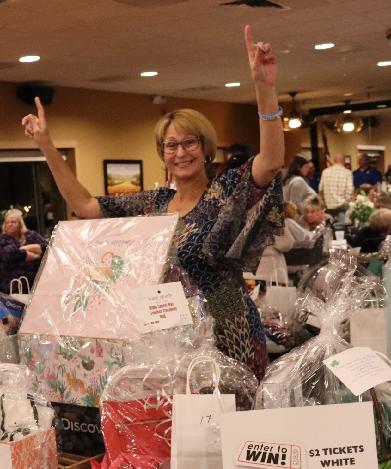 She is determined to fund future research, and started an annual fundraiser to benefit LCRF in 2016. Typically, it's an evening gathering with food and prizes – but this year, she's taking it online.
Jeanne works with donors to offer an array of gift baskets, gift cards, and unique items for the event's prize drawings. In a change to the usual format, anyone who donates to the online fundraiser will be entered into the random drawings. Prizes include Kate Spade, Coach, and Vera Bradley bags, as well as lotto boards and a large variety of gifts.
Volunteers will help Jeanne deliver or ship the prizes after the drawings are held on December 5, 2020. You can make a donation on her event page for a chance to win.
If you are interested in holding your own fundraiser, we can help you get started! Contact events@LCRF.org with your ideas and questions.