By Gerri Allen | April 2023
I had a slight cough that wouldn't go away, and I could not do my normal workout on the StairMaster.
I went to my doctor to see if I was well enough to get vaccinations for a hiking trip to Patagonia. Although my lungs sounded fine, she sent me for a chest X-ray followed the next day by a CT scan. After she saw my scan, she immediately scheduled an appointment with a pulmonologist who cleared her schedule and did a bronchoscopy the next day. Everyone was dressed in "space suits" because they thought my scan might have shown tuberculosis! A week later I had a lung wedge resection. Two weeks later I got the news… NSCLC with EGFR+ Stage 4! I believe that, because I had none of the risk factors and I took good care of myself physically, everyone made the extra effort to get a quick diagnosis.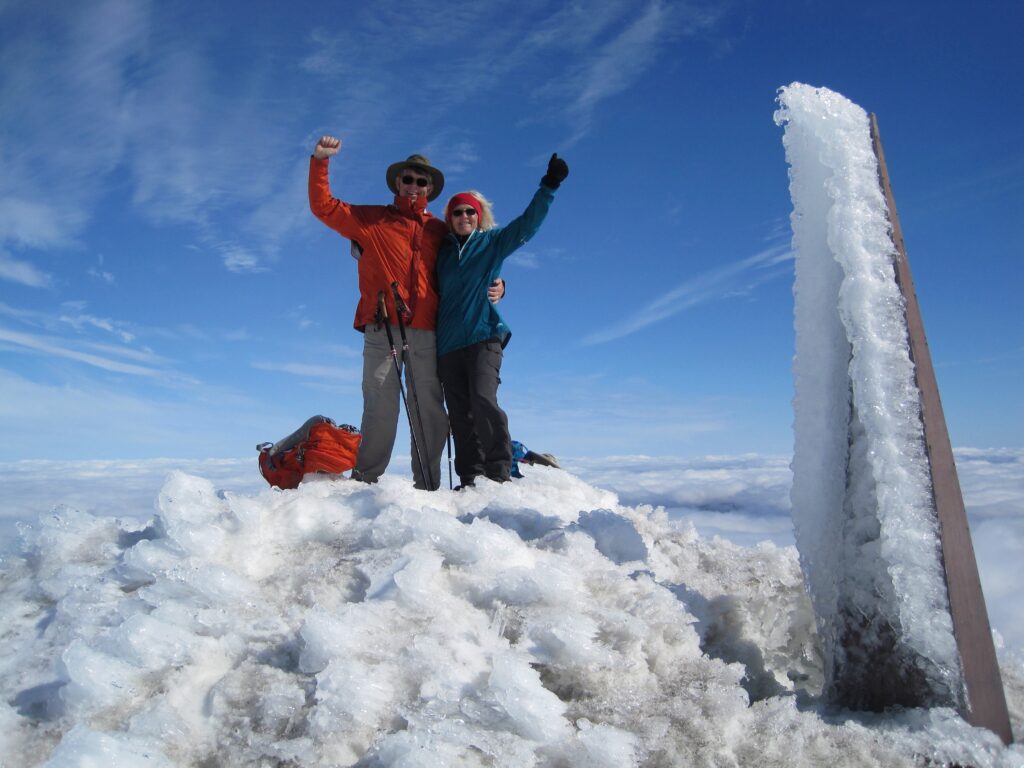 My life was suddenly turned upside down! For years, my husband and I had wanted to go to Patagonia, and now we might not be able to go. It was all a total shock! I was the last person anyone would expect to have lung cancer. I am an athlete. a tennis professional, hiker, kayaker, cross country skier, wife, mother, and grandmother.
My daughter was visiting us when I received the diagnosis. I told her I got the best news possible (EGFR+), and she burst into tears. She asked why I was pretending everything was OK when it wasn't. I told her I have a choice … I have been dealt this hand. I can accept it and go on living my life, or I can be miserable and angry that I have cancer. She told me how inspiring that message was for her. A few years later, she followed my example when she was diagnosed with breast cancer.
The people who supported me
My husband has been my rock. He says we'll get through this TOGETHER. He challenges me to do things out of my comfort zone and is incredibly patient when we hike… even carrying my pack uphill if we're on a long hike! He is my "personal assistant" which includes planning our next adventures. We walk every day for about three miles with elevation so we can enjoy our frequent hikes in the Oregon and Washington Cascades or in places further away.
Since my diagnosis, we have had hiking adventures in Patagonia, the Tetons, all five Utah National Parks, the North Island of New Zealand, and Hornstrandir Nature Preserve in Iceland (which was a REAL adventure)! We went with an Icelandic group, hiked 13.5 difficult miles one day, and were totally immersed in Icelandic culture. Two years after my diagnosis, we did our last 13.5 mile hike on the Tongariro Alpine Crossing in New Zealand. We realize we will not be able to do anything quite that ambitious again, but we do have hiking trips planned to Newfoundland, the South Island of New Zealand, and Tasmania.
My oncologist has been very supportive, encouraging me to go on these adventures and to continue living my life.
After my diagnosis, my tennis manager, students, and teams understood my priorities had changed. They encouraged me to do things for ME, without worrying about them every week.
Maintaining hope
Soon after my diagnosis, I talked with the social worker/palliative care professional in my oncologist's office. She helped me develop strategies for maintaining hope and for coping. She encouraged me to work toward goals, to be creative, and to plan activities… in other words, to LIVE! I started quilting again and have donated almost 20 lap quilts to nursing homes, outreach programs, and senior centers. This gives me a sense of purpose as well as using up my huge fabric stash!
My social worker also suggested I do some form of meditation. I have always considered my hiking, kayaking, and cross country skiing to be meditative because of the repetitive movements and the healing time spent in Nature. I took her suggestion and added a form of qigong (Shibashi) that fits my personality and helps me to be more in tune with myself through breathing, visualization, and movement.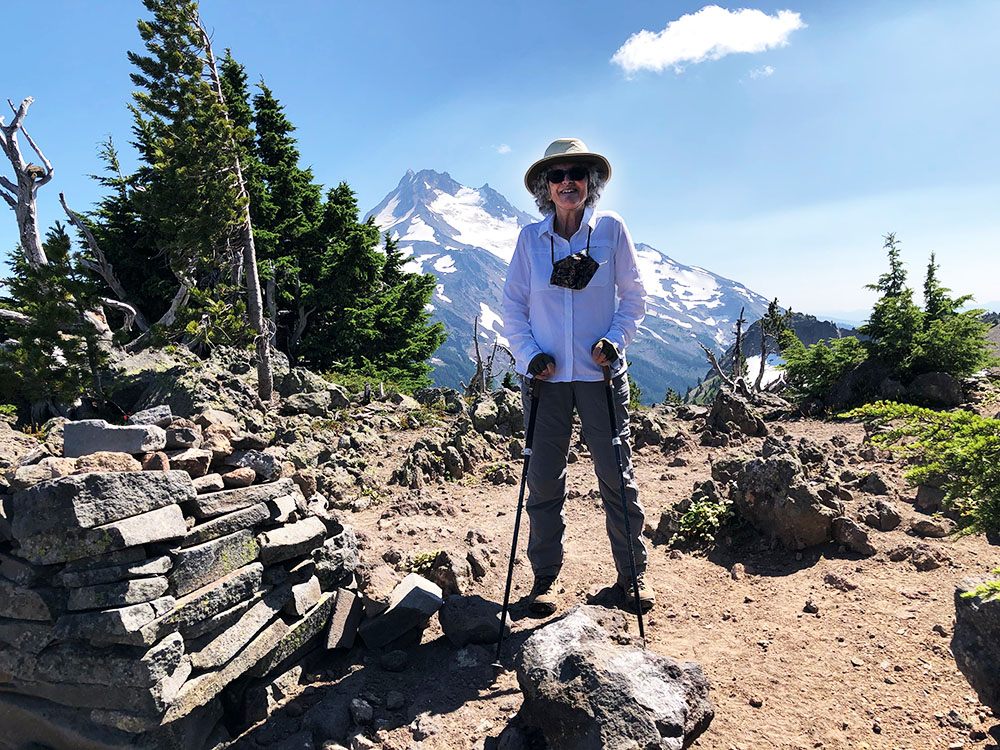 I have found hope in the stories of survivors in the lung cancer community. Many of these stories come from you. The first story that inspired me, though, was in the New York Times in January, 2018. It was titled: "When the Lung Cancer Patient Climbs Mountains." I thought, if he can hike in Nepal, I can certainly hike in Patagonia! And I DID! Five weeks after starting targeted therapy, I hiked 90 miles there!
I also read the informative newsletter from EGFR Resisters and watch videos of some of the topics covered. I am hopeful because we are learning so much through new research. I am grateful for those who are so good at raising funds for this research.
I have participated in two LCRF Free to Breathe Walks with a friend. I also enjoy watching the #TogetherSeparately meetings on Zoom. I find them educational and inspirational. They also help me to feel more a part of the lung cancer community, which is especially important since I am not on social media.
For those with a new diagnosis
I would tell someone just starting treatment:
Lung cancer does not define you… you are much more than that!
Keep up your fitness level… it will help you in so many ways!
Make a bucket list and start on it NOW… make plans so you have a goal or something to look forward to. (I am on my second bucket list!)
Do something that nourishes your soul… hiking, music, sewing, art, teaching, etc.
Do not hesitate to ask for palliative care early in your treatment… it will help you lead your best life.
Control what you can control… and control your reactions to everything else.
I have been extremely fortunate to have a very supportive family, a great oncologist, really good health insurance, and the ability to travel. I am also grateful for all of the advocacy and research in lung cancer that has given hope to so many of us.