When you attend a Free to Breathe Walk, you'll be surrounded by colorful butterflies. Not only are they a powerful symbol, their colors represent how lung cancer has affected our lives. Below, you can read what this means for a few of our walkers.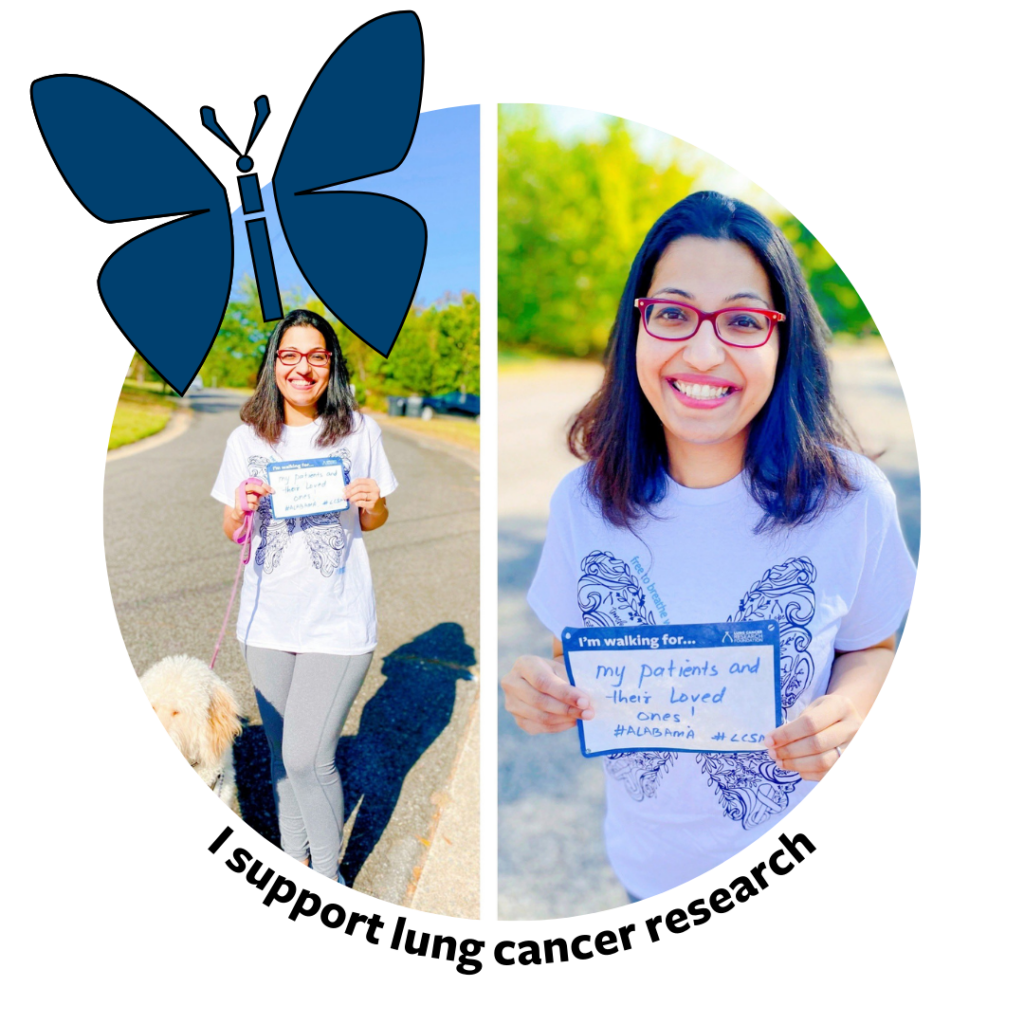 Navy means, "I support lung cancer research."
"For me, as a lung cancer physician practicing in Alabama, it was important to highlight the relative lack of resources for patients at risk of lung cancer and subsequently for those diagnosed with the disease as well.
I want to make sure that the research advances (that have moved the needle by leaps and bounds) are equitably available to ALL patients regardless of their geographic location!
The feeling of community was absolutely amazing. It was also energizing to know that a platform exists to amplify the voices of patients/providers and caregivers."
~ Devika Das, MD, Free to Breathe Anywhere Walk
White means, "I know someone with lung cancer."
"The Free to Breathe Walk represents a community.  It is a space where those affected by lung cancer can come together and truly support each other. So for me, the Free to Breathe Walk means community. 
I walk to support, uplift, and celebrate my husband, father, and anyone else affected by cancer. To say they are important to me is not enough. My family is my world, and I walk in hopes that we can raise awareness about lung cancer and so that more money can go towards research.
My favorite part about preparing for the walk is organizing our group – getting everyone together and seeing how much support we get from those around us."
~ David Davila, Chicago Free to Breathe Walk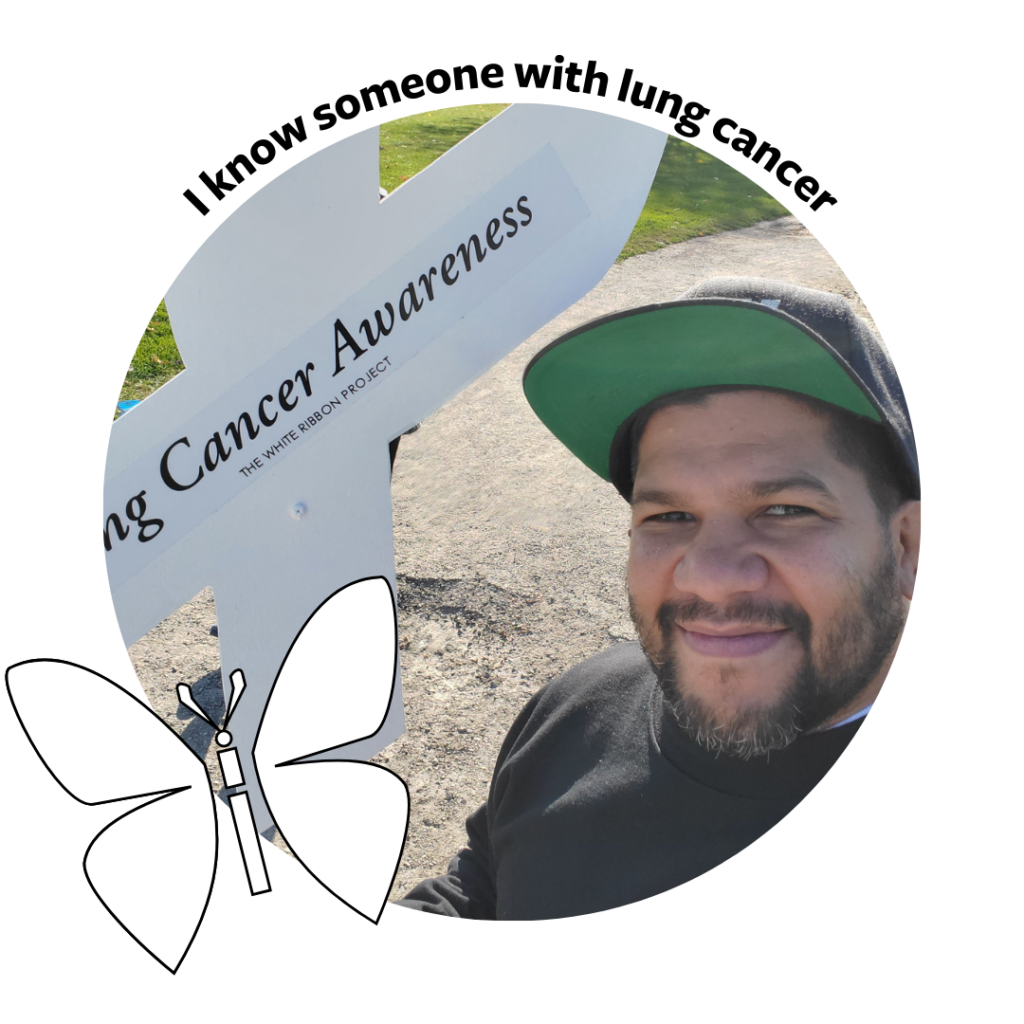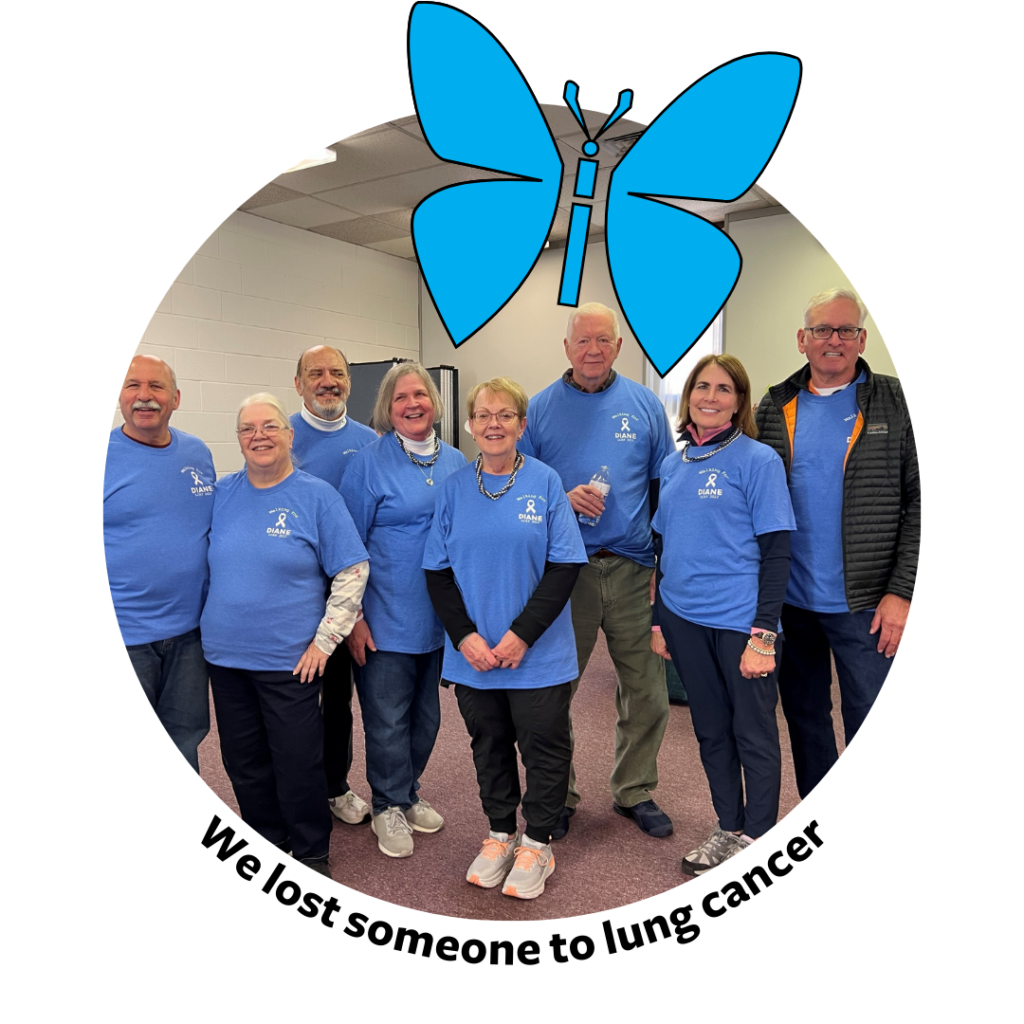 Blue means, "I lost someone to lung cancer."
"When I got the email about the Free to Breathe Walk last year, I had just lost my sister, Diane, to lung cancer. She never smoked or was around smokers, so her diagnosis was a big surprise. Hearing that there was some way I could help to raise funds for the research was great. Last year's walk fell on my brother-in-law's birthday, and that just made me think Diane was telling me to do this. I've never organized anything like this, but with the help of LCRF I did it!
I got my daughter and nieces together and we planned a walk around Diane's hometown. We were so pleased when over 60 people turned up on that beautiful fall day to walk in honor of Diane. She had passed in January and the weather was terrible, so many who came for the walk did it since they could not come to the funeral.
After the walk, we had coffee and pastries and reminisced about Diane, the fun times that we had, and how much she would have loved the walk. It was good to be with so many people who loved and missed Diane like we do. Everyone said they are looking forward to doing it again this year.
I am proud that I can help to raise funds for research that might help others not suffer as Diane did or their families feel the loss we do. My small donation helps, but many small donations from the walk help even more! "
~ Louise Corpora, Free to Breathe Anywhere Walk
Gold means, "I have a diagnosis of lung cancer."
"The Free to Breathe Walk means that our community is raising funds for lung cancer research so that survivors like me can live longer. BECAUSE OF RESEARCH, I got to meet my two grandchildren. BECAUSE OF RESEARCH, those babies get to hug, kiss, see, and get to know me.
I participate because I personally want to make an impact in lung cancer research. My participation shows my friends, family, lung cancer community, and the world that I am dedicated and committed to raising funds, and it shows that research for lung cancer matters, and it matters right NOW. I will not stop until I take my last breath.
I loved the butterflies and what they symbolized, and I had the incredible opportunity to represent my community as the gold butterfly (survivor) on stage during the opening ceremony. Representing my community, hearing other survivor stories, and starting the walk with my granddaughter were three of my favorite memories of walk day."
~ Juanita Segura, Free to Breathe Chicago Walk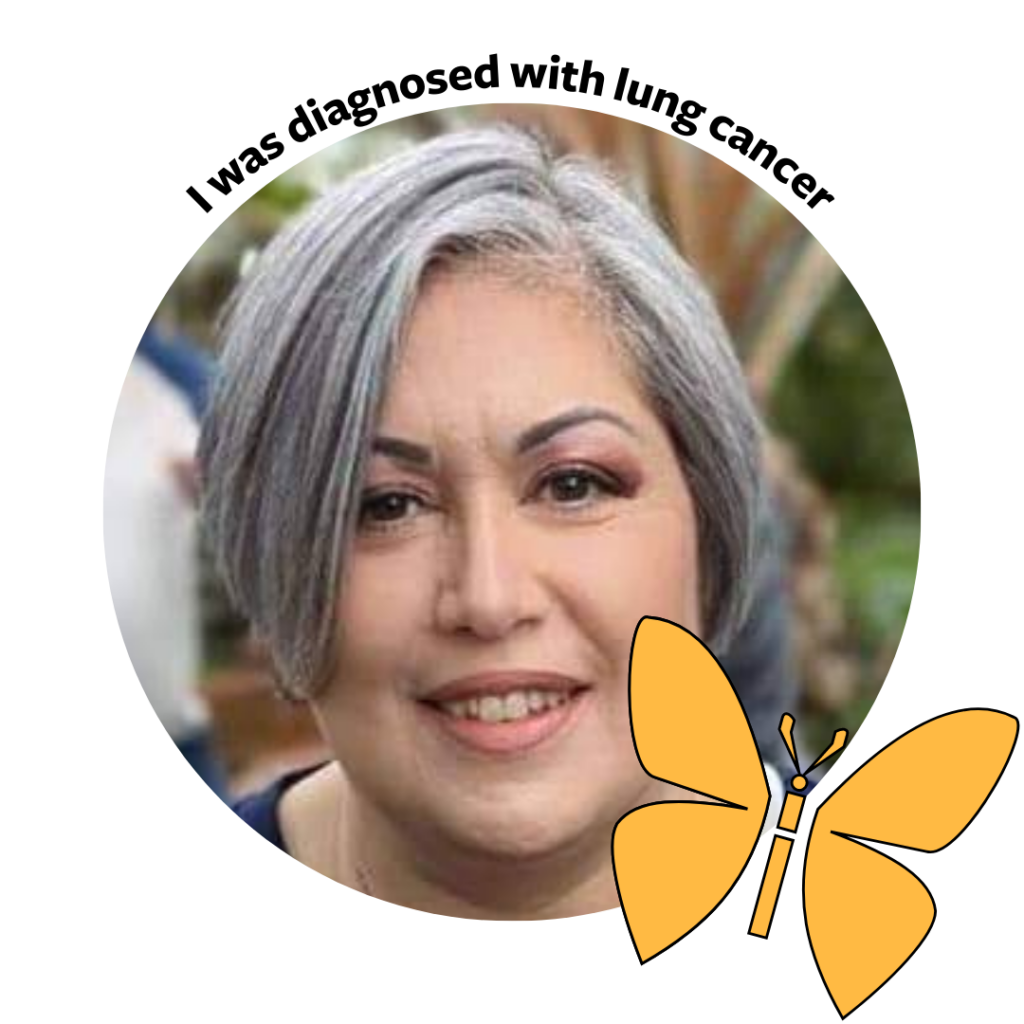 ---
Free to Breathe Your Way
"Fundraising for lung cancer means the world to me. I lost my dad in 2001 to lung cancer. At the time it was deemed a smoker's disease and very, very underfunded. We had no answers; no cure, and 6 weeks after diagnosis he was gone. And I can't help but think that if he was diagnosed today he would have lived and I could still give him a hug – that is due to fundraising for research. And while I can't bring him back, maybe I can help so that some other girl doesn't have to lose her favorite person.
I began running Strides for Life in 2008 in my dad's name, and since it was cancelled in 2020 due to Covid, I organized my own fun run to benefit LCRF. Over the last 15 years my team has raised about $110K for LCRF. I keep doing this because I believe in it; I believe that science works; and whatever I can do to help out, to raise awareness and money, I am happy to – especially in my Dad's name.
As my own event has progressed the last few years, I look around and it is humbling. These friends of mine show up for a charity fun run on a Sunday morning in August and none of them ever met my dad. They do this because it means something to me. And that just brings tears to my eyes every year. And as long as I have a platform and can do this, I will hold my event and raise awareness for this disease that takes so many."
~ Gambrelle Snyder, Team JPS Bubbles
in memory of J. Phillip Snyder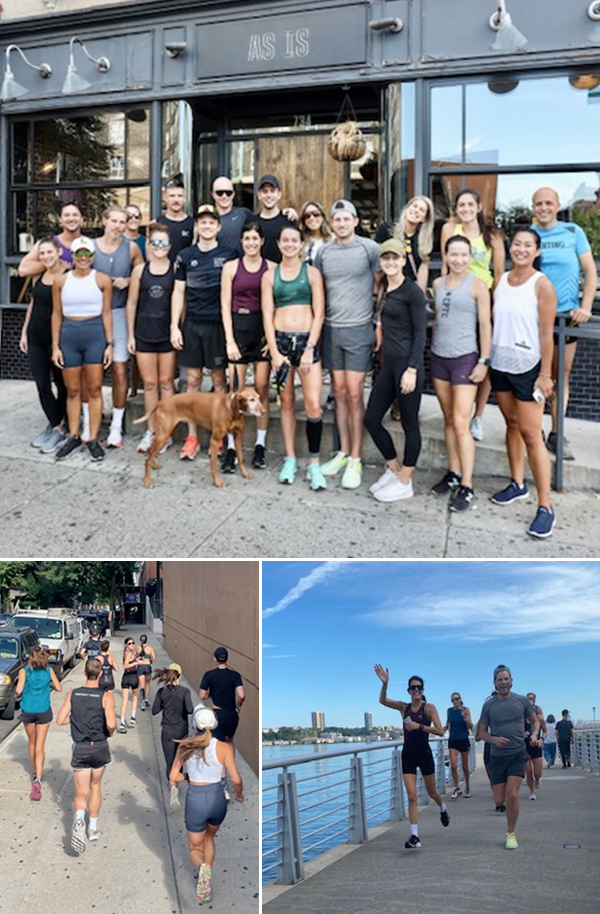 ---
Team LCRF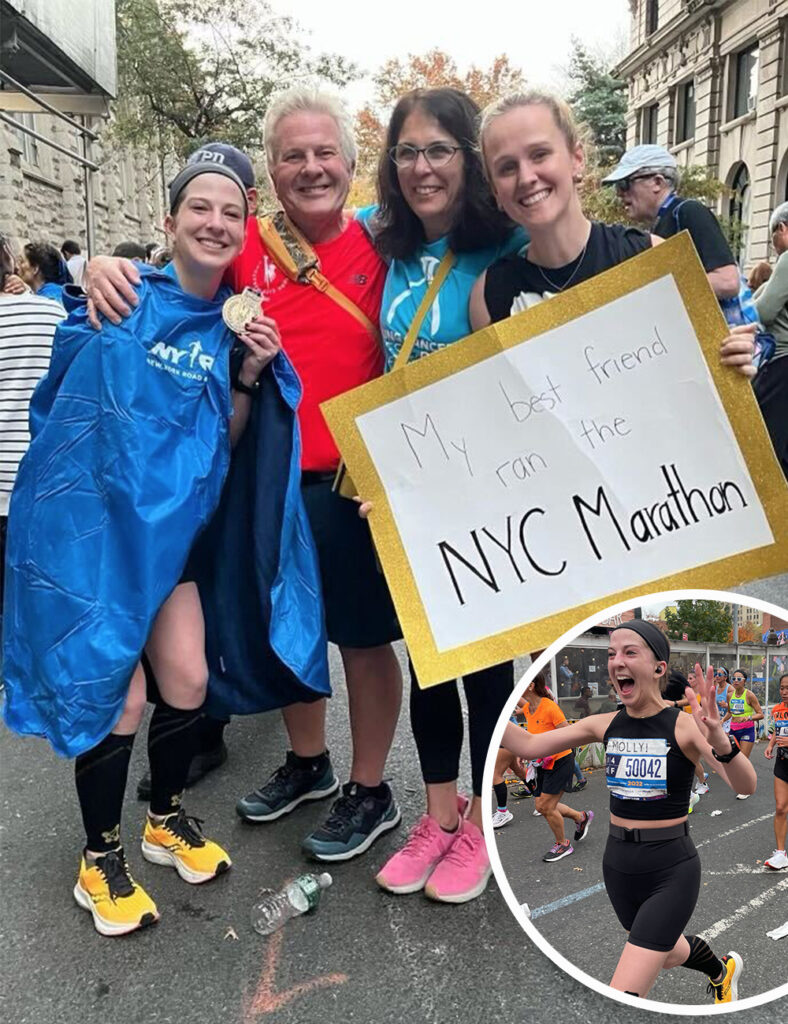 "When my mom was diagnosed with lung cancer, I felt powerless and like there was nothing I could do to help her. This gave me the opportunity to make an impact and feel less powerless. Fundraising for lung cancer research means that I get to have an impact on not only my mom and family's journey but others who are impacted as well.
I joined Team LCRF for the marathon because I wanted to make a difference, and I wanted to honor my mom and give her something to cheer for. I wanted to help families like mine and create more positive outcomes!
My favorite part of the race was seeing my mom at the finish line, knowing that no matter how hard it was it was all for her, we were creating a happy lasting memory amid a scary situation."
~ Molly Pontius, 2022 TCS New York City Marathon