November 2016 | As told by Jennifer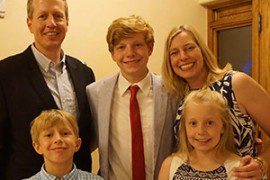 A year and a half ago, I was feeling terribly run down and getting very winded from normal activities in spite of being fit and athletic. I was coughing, having trouble catching my breath, and experiencing some mild wheezing. These symptoms led me to my primary care physician, and when I didn't feel better on antibiotics within a few days, she ordered a chest x-ray.
On a busy Saturday, I let my husband Andy manage our kids' sports schedules and walked myself into the emergency department, expecting a case of walking pneumonia or bronchitis. Nothing could have surprised me more that day than to learn that I have Stage IV metastatic lung cancer.
As a lifelong athlete through college and now just "for fun," I couldn't understand how someone who follows a healthy diet, exercises regularly, and competes in triathlon and running events could possibly have incurable lung cancer.
I fought during the next month to become well enough to begin chemotherapy, knowing that statistically I would be an outlier if I could survive beyond a year or two. But 17 months after diagnosis, I am living very well as I continue chemo to keep the cancer in my lungs stable. The cancer that was found initially in my adrenal gland and liver is now undetectable.
Unfortunately, debilitating headaches and vomiting six months ago led to the identification of two lesions in my brain. Both were successful removed via craniotomy. Four months later, as I was once again feeling my "new normal," MRI identified another brain lesion, which was successfully treated with stereotactic radiosurgery. I have recovered from these detours and use them as an opportunity to refocus on my overall wellness – which I know not to take for granted. I have maintenance chemotherapy every three weeks and MRI of my brain every few months to check for cancer growth. Despite these challenges, I have been determined to take control of the only thing that I can control: my mindset and gratitude each day.
Today, I have resumed most of my normal activities while working around the many side effects and appointments: managing the household and parenting our 15-, 12-, and 10-year-olds; coaching (and playing) volleyball; practicing yoga and walking our dogs; volunteering at my children's school and being active in our church; and enjoying the daily joys of carpools and family dinners.
I am constantly challenged to accept the limitations that living with lung cancer places on my life and the emotional fear that can easily take hold if I am not vigilant in choosing to focus on the beauty in each day rather than worrying about the days to come. I work very hard to draw from my faith, practicing meditation and prayer focusing on how great my life is rather than how terrible my diagnosis is.
I have become as knowledgeable as possible about lung cancer in order to advocate for myself with all the members of my medical team, and I eagerly pay attention to research findings that I hope will help me and many others live better and longer with lung cancer.
Andy, my amazing husband of 22 years, has been instrumental in helping us navigate life with lung cancer, as have our parents and siblings. My sister (a nurse) and countless members of our community have supported me in so many ways: meals, play dates for the kids, a volleyball tournament fundraiser, encouraging prayers/emails/text messages/phone calls, and joining me to walk the 2016 Kansas City Free to Breathe 5K and helping our Team Gratitude raise the second greatest amount of money of any team at the event this year.
I feel an urgency to share information about lung cancer since it is so largely overlooked, especially in light of the fact that lung cancer claims more lives each year than breast, colon and prostate cancer combined. I tell my story to anyone who will listen, hoping that I can be part of a movement to increase funding for lung cancer research so that it might one day receive funding proportionate to the impact it has when compared with other cancers.
Lung cancer does not discriminate; financial support shouldn't either.
No one deserves lung cancer, and I want to help end the negative stigma unfairly attached to lung cancer and help raise funding to find a cure. I hope to increase my advocacy efforts now that I am back on a predictable schedule of chemo every three weeks. I know that for me and many others, we are in a race between our cancer growth and research breakthroughs.
In the short time since my diagnosis in April 2015, the landscape has changed tremendously as researchers discover new breakthroughs. The options are broader for anyone diagnosed today. I encourage anyone living with lung cancer to ask questions of doctors or reputable organizations; to access palliative care, psychology, nutrition and other resources to complement oncology; to ignore the larger internet or "hearsay" information; and to focus on how you can make each day beautiful.
Living with cancer forces patients to acknowledge how little control we each have, but the one thing we can control is the attitude we carry and share with others. Choose to be a person of gratitude who lives in the present and takes charge of living a quality of life filled with hope. When I remain too long in that dark place of worrying about myself, all I need to do is look around the waiting room at the cancer center and see how many others are suffering more than I am today. It is only in my mind and heart that I can control this cancer by allowing it to fuel hope, gratitude, and love – instead of letting it take away my joy.