October 2017 | As told by Marie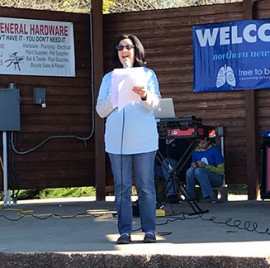 It's just about 7 years ago that quite by accident, a suspicious nodule was discovered in my right lung. The spot was revealed during a CT scan after I went to the ER for abdominal pain, thinking I might have appendicitis. To my shock and horror, I found out that I had lung cancer. I had no symptoms of any kind, no family history, and I had never smoked a day in my life.
I couldn't believe this was happening to me. After a successful lobectomy with no need for further treatment, I truly felt I had dodged a bullet. I was so relieved, especially when every follow-up scan was clear.
My relief ended suddenly in March 2015. After experiencing months of debilitating thigh, leg and back pain, for which I was receiving chiropractic treatment to no avail, I finally went to an orthopedist. There I learned that the cancer had metastasized to my bones. I had been walking around with a pelvic fracture, and further scans showed spots in my ribs, lung and brain as well.
My very core was shaken, and life would NEVER be the same. In the darkest and scariest time of my life, while I was having biopsies and wondering what would become of me, I was given some amazing news. I had the EGFR receptor mutation, and a drug named Tarceva had been found to block or slow the EGFR signals. This newer treatment – which wasn't even available a few years ago – can slow the growth and even kill off cancer cells. By the grace of God and medical research, I am able to live with lung cancer as a chronic disease and not an automatic death sentence!
Marie shared how research helped write her story in a fall 2018 video, shown below.
My Tarceva treatment began in April 2015, two days before my beautiful grandson Anthony was born. At that time, I didn't know whether I would be around to watch him and my other grandchildren grow. I was devastated to think that Anthony, Isabella (then 2 years old) and Benjamin (who was 1) might not have the opportunity to know and remember me – the Grandma who loves them with all her heart. Thankfully, and yes, also by the grace of God, this treatment is giving me many more years with my family. I am enjoying all the milestones in life that I have looked forward to experiencing. I've enjoyed family vacations and wonderful times spent together with family and friends, bucket list trips to Italy and the Grand Canyon, holidays, birthday celebrations, kiddie parties, first days of pre-school, dance recitals and lots of babysitting! My husband and I recently turned 60, and our amazing children surprised us with a party. We enjoyed family and friends, and held our grandchildren. We laughed and made more wonderful lifelong memories. Life is good!
When I spotted a Northern New Jersey Free to Breathe Walk flyer at Morristown Medical Center, my home away from home, I had to take a closer look. I saw that the walk would be taking place in October, and I just knew I had to be a part of it. I was delighted to join all the amazing people – fellow warriors, survivors, supporters, friends and family – at this awesome fundraising event! After all, the research funded by generous participants at events like the Northern New Jersey Walk has given me precious years with the people I love. As a lung cancer survivor, I told my story from the stage on event day and am sharing it with you now.
Because of my newfound perspective and cancer journey, I never take a minute of my life for granted, I embrace and enjoy every day that is given me, and I am grateful. I look forward to a long life.
I am so thankful to all of you who support lung cancer research by giving your time and resources to help put an end to this awful disease.