William A. (Bill) Schrul passed away on December 15, 2020 at the age of 64, either and a half years after being diagnosed with lung cancer.
---
August 2017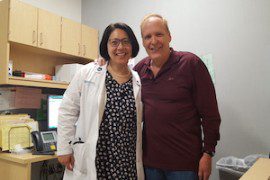 On June 13, 2012, I found out I had stage 4 lung cancer with an EGFR mutation. Originally, doctors thought I had an infectious disease as well, but that wasn't the case. So I started on Tarceva, a targeted therapy, which I stayed on for a year and a half.
At that point, my oncologist recommended entering a clinical trial. I had tremendous confidence in her, and once we met with the team at Mass General, I knew we'd made the right move. From that trial, I moved to the expanded access program for AZD-Tagrisso. A month later, Tagrisso got FDA approval, and I've continued to take that drug for two years now.
But lung cancer wasn't my only challenge. I wound up having my gall bladder removed in May 2014, and in early 2015, I needed cataract surgery on both eyes due to side effects of a trial medication.
Through all of this, my wife Teri has been my biggest supporter. She keeps track of all my doctor visits and makes sure that she understands everything my medical staff explains – many times, my mind is off in different directions, and I don't catch what they are saying. Teri stays on top of my medications and keeps me on schedule with all my prescriptions.
I can't say enough great things about how Teri has handled my diagnosis. She keeps me going by being positive, and she keeps me on an even keel during the challenging times. I also get tremendous encouragement from my family. I want to be around for them, so I keep positive and strong wanting to give them back the love and support they've shown for me.
What also gave me hope was the progress we saw after going into the clinical trial. My scans showed excellent improvement, and my everyday health seemed to reflect that. My medical team continued to inspire me, and I cannot say enough kind words about how they have treated me. They are always upbeat, always full of positivity.
My biggest advice for those who are on this path is to find a medical team you believe in. You have to truly believe they will do whatever it takes for you to succeed. They need to be aware of cutting-edge medicine and be open to moving you into a clinical trial if warranted.
Also, stay strong mentally as well as physically. Don't lose hope. Remember that every day you fight is another day closer to new medications being discovered. Lung cancer treatment has dramatically changed in the five years since I was diagnosed, and there are numerous potential drugs in the pipeline.
I'm glad to be part of this organization, which has done so much to support lung cancer research. I've been involved in the Northern New Jersey Free to Breathe walk since a few months after my initial diagnosis. In 2014, I gave the keynote speech at the event. My family and I have done every annual walk in the years since, raising thousands of dollars in the process.

Getting involved helped me turn something negative – my lung cancer – into positive action. I want to show others that you can live with this disease. For me, walking sends a message of strength and hope.