Erika Hlavacek passed away on April 27, 2022 from complications caused by Stage IV lung cancer. She was 47.
Erika was a board member at ALK Positive Inc., served on multiple committees for industry groups and founded two nonprofits. You can read about yEAHbestlife below. In 2021, she became a founding parent and founding board member of Pickles Group, which benefits children of parents with cancer through peer support groups.
---
July 2020
In 2017, Erika Hlavacek went to the hospital after a persistent cough and back pain became unbearable. She was discharged 10 days later with a Stage IV lung cancer diagnosis.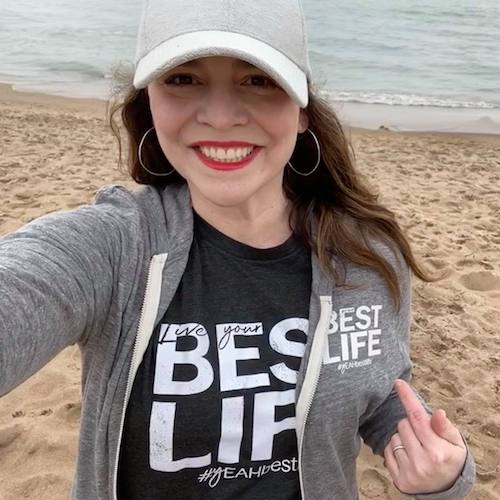 But thanks to research, she's living her best life. After the cancer spread to her brain, she was treated with medications that had been approved less than a year before she needed them. Two drugs and three weeks later, the brain tumors were gone.
Erika has founded a brand and nonprofit dedicated to fundraising for lung cancer research. According to the yEAHbestlife website, she was surprised during a girls' weekend with matching shirts that said "Best Life" on them. This inspired her to design a "Live Your Best Life" themed shirt for an upcoming event. The design was so well-received that she saw potential in using shirt sales as an avenue for raising awareness and funds. The name "yEAHbestlife" includes Erika's initials: EAH.
Her story was featured on NBC 5 Chicago, highlighting recent FDA approvals for lung cancer treatment.