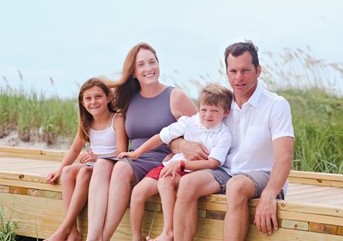 Jen and Matt created an enviable life together. Together, they traveled the world, enjoyed professional success, and thrived as parents to their two young children. Then one night, after she finished a long shift as an anesthesiologist, a surgeon friend of hers insisted on giving her an X-ray to investigate a persistent cough.
On February 9, 2018, Dr. Jennifer Zannini-Cipriani was diagnosed with metastatic lung cancer. She passed away just short of three years later.
Matt honors Jen's memory by raising awareness while working to rewrite the future of lung cancer treatment through funding medical research. Hear him tell their story in the video below.
Join us and CancerCare on May 25 for a special livestream gathering, Honoring Loved Ones. Christine Calafiore, MSW, LSW will present information specific to lung cancer about grief, and lend space for participants to learn how different this can be from other losses. Attendees will have the opportunity to share their loved ones' stories and honor their lives. Sign up here.
Memories of Jen