2004 UALC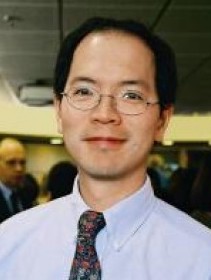 Kwok-Kin&nbspWong, MD, PhD
Dana-Farber Cancer Institute
Research Project:
Novel Human Lung Cancer Gene Discovery
Summary:
Dr. Wong will be using advanced technology including genome analysis, microarray studies and bioinformatics to identify and validate novel genes causing non-small cell lung cancer. This work will help identify new targets for future drugs.
More Content:
Final Report
Dr. Wong has completed his analysis to identify a number of candidate genes. He has identified 93 alterations, including known and unknown genes, and has been pursuing work to validate these findings to isolate potential new therapeutic targets. There are several ongoing human clinical trials combining the use of PI3K and MEK inhibitors in patients with K-Ras cancers. Dr. Wong is currently using the same strategy in determining oncogenic drivers in squamous cell carcinomas of the lung. Several new mouse models of lung cancers have been generated.
Notable Accomplishments
Dr. Wong has garnered over $5 million in funding to continue his studies of genetic drivers of lung cancer. His team has also won the Fourth Annual AACR Team Science Award.