2022 LCRF and MET Crusaders Research Grant on MET-Driven Lung Cancer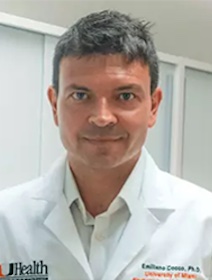 Emiliano&nbspCocco, PhD
Miller School of Medicine of the University of Miami
Research Project:
Exploring novel therapeutic options to target MET-driven lung cancers
Summary:
* * This project was awarded the LCRF William C. Rippe Award for Distinguished Research in Lung Cancer, acknowledging the investigator whose proposal not only demonstrated exceptional scientific merit but also exemplified an enduring commitment to making an impact in the field of lung cancer research.
MET alterations are recurrent drivers in Non-Small-Cell lung cancer (NSCLC). While most anti-MET agents are active, resistance develops. Identifying more effective approaches to target MET-driven NSCLCs is an unmet need. Here, we aim to 1) parallel the clinical development of a new anti-MET Antibody-Drug-Conjugate (ADC) with its pre-clinical characterization, 2) evaluate the efficacy of MET inhibitors with different binding modes (type I and II agents) against MET mutant NSCLCs and, 3) unveil mechanisms of resistance to these therapies. Successful completion of this proposal will provide insights into the activity of a new MET ADC, as well as of type I and II MET inhibitors. Moreover, it will reveal possible mechanisms of resistance to these agents, potentially suggesting new therapies.
Updated March 2023: Dr. Cocco's work was published in Nature Reviews Clinical Oncology, Feb. 20, 2023.