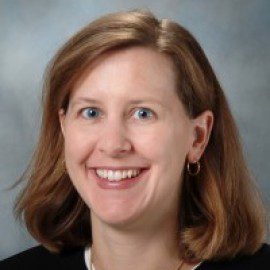 Faye Johnson received her bachelor's degree in biology from the Johns Hopkins University and then her MD from the University of Texas – Houston in 1996. During her graduate work, she studied the role of b (1,4) galaltosyltransferase in cancer metastasis – receiving her PhD in Cancer Biology from the University of Texas Graduate School of Biomedical Sciences in 1996. After completing residency in Internal Medicine at the Baylor College of Medicine she completed a fellowship in Medical Oncology at the University of Texas MD Anderson Cancer Center where she later joined the faculty in 2003.
Dr. Johnson is currently an associate professor and physician-scientist in the department of Thoracic, Head and Neck Medical Oncology. She has integrated laboratory, clinical, and translational work to develop studies of signal transduction in lung and head and neck cancers with the goal to improve therapy for cancer patients. In this regard, she has focused on defining the biological effects of inhibiting therapeutic targets such as Src, Met, Ephrins, and Plk1 and pathways of resistance. She has conducted research projects in the laboratory with complementary clinical trials designed to validate and advance her laboratory findings and improve patient survival.
In the current research, Dr. Johnson's preliminary data shows that Plk1 inhibitors hold great promise because of a subset of exquisitely sensitive NSCLC cell lines and patients indicating that she will be able to define a subpopulation of sensitive patients and define the underlying molecular mechanisms of sensitivity.