Elizabeth de Jong passed away on July 3, 2023 from complications caused by Stage IV lung cancer.
---
July 2017 | As told by Elizabeth de Jong
On September 16, 2016, my life took a sharp right turn. I had been having some hip pain over the summer and it had stretched down into my thigh by August. A visit to the orthopedist resulted in one of those awesome "women at your age" conversations and a shot for bursitis. The x-ray had stopped just shy of the tumors that were in my femur. A few days before I was due for a follow up appointment with the orthopedist, my femur broke as I was going down the stairs in my house. At the hospital in viewing my x-rays, the same orthopedist, feeling bad that he hadn't caught them the first time he saw me in August, saw the tumors and ordered an MRI and more x-rays. He didn't like what he saw and referred us to a comprehensive cancer center of our choosing. After nearly a week of more x-rays and CT scans and MRIs, and a bronchoscopy, I was told I had non-small cell lung cancer, stage IV. In addition to the femur, they had found tumors in the lower lobe of my right lung, lymph nodes near it and a lesion in my brain. Shocked doesn't even begin to describe how I felt. Shocked not only at the diagnosis but also in disbelief because, other than the hip and leg pain, I'd had no symptoms – no shortness of breath, no coughing, no pain, no headaches, no vision issues, nothing.
When I heard those words "lung cancer" I thought the typical thoughts – I'm too young. I don't want to die yet. My world stopped rotating and for a moment, the only things I could feel were the pain and fear in my heart and my husband's hand in mine. Then the world came back into focus and my amazing medical team from Hillman Cancer Center at the University of Pittsburgh Medical Center rallied around me. My biopsies and blood were sent out for genomic testing. I was scheduled for cyber knife on my brain and radiation on my now-repaired and titanium reinforced leg. As we wrapped up the radiation treatments, my genomic testing came back and I was told I'd hit the "jackpot" of NCSLC – ALK – non small cell lung cancer with the anaplastic lymphoma kinase mutation. Fewer than 5% of all NCSLC diagnosis share this trait but research has created a great window of treatment opportunities.
My husband is my co-fighter, my warrior, my researcher, my advocate, my laughter, my shoulder to cry on, and my true partner. I refer to "our" oncology appointments because he never misses one. He's been with me for every treatment, as close as the radiation techs would allow – far down the hallway behind the lead walls but still with me every step of the way. But that is just the details of what he does, what doesn't come through is how much my love has grown for him since we started this journey. He helps me in more ways than I can even try to articulate. Together, we stay as positive as possible: enjoy good food, friends, travel and much much more. He knows when I'm struggling and can appropriately be my cheerleader or, if needed, remind me to get over myself.
Chemotherapy
My treatment is an "oral chemo" or, more appropriately, a tyrosine-kinase inhibitor. I started, for just a few weeks with Xalkori®, crizotinib, but quickly transitioned to Alecensa®, alectinib. It better crosses the blood/brain barrier and since I'd already had one lesion, our oncology team decided to make the switch. My oncologist strikes a good balance between realist and optimist. We talk about not only my current treatments but what will come next or down the line from that. He's explained about TKI immunity or failure. We've talked about options for other TKIs, other therapies, potential trials, if appropriate, and additional biopsies and testing when failure happens (a reality – whether this year or next year or the next). I'm hoping for a good long run on alectinib but also keep in the back of my mind that eventually its effectiveness will come to an end.
I've been fortunate to have very few side effects from either the radiation or the daily regimen of oral chemo. One of the challenges, I think, that cancer patients face as medical science advances is that we don't look like "typical" movie or tv cancer patients. I haven't, and won't, lose my hair with this treatment; I am able to work full time, travel and work out. Because I have not received "traditional" chemotherapy, I don't have a port and I don't have many of the side effects most people think of when they think of cancer. I do get tired more easily. I do have some muscle and joint aches and pains as a side effect of the alectinib. The alectinib is a photosensitive drug and I've learned that SPF 50 won't cut it for me anymore. I don't have any dietary restrictions and, other than my own sweet tooth that goes back to way before my cancer diagnosis, am able to eat a normal diet.
Another challenge I faced was getting off the walker, and then off a cane, after my femur repair. This took a lot of time and I had to be patient and remind myself that I couldn't expect "normal" results because I was no longer normal. I was not only healing a broken femur but fighting the cancer in the bone, and the rest of my body, and dealing with the radiation to my femur as well. I had great days where I would do so much more than I thought I could the day before and then days where I struggled to even do the bare minimum to get through the day.
I'm fortunate that we have both access to and resources for complimentary therapies – regular yoga, acupuncture, therapeutic massage and physical therapy/training sessions along with a naturopath and nutritionist as needed. Other than that pesky cancer, I'm probably healthier than I have been at any other time in my adult life.
Celebrating life in 3-month increments
There are days when I could ALMOST forget I have cancer. I feel strong and healthy. But then it's time to take another medication or supplement and I'm reminded. In addition to daily workouts, trying to eat a more healthy diet, and my medication regimen, I've added a few other activities. I journal nightly. I track symptoms and side effects in my journal, in addition to my emotions or daily activities. I also keep a daily prayer list of people I want to include in my thoughts and prayers that day – some people are, and have been, on that list daily since I started, others come and go based on what I see on social media, what is shared with me in conversation or just a feeling I might get about that person. That prayer list also includes prayers for me – –vary from day to day as well. I try to think positively, that I'm doing well and the treatments are working. But there are times that the reality sinks in. I worry about what progression may look like for me, since each person's journey is different. I worry about having to tell my family and friends about that progression. I find myself trying to reinforce to people that I'm fine, while in my head I'm thinking "I'm fine, for now." But I don't want to bring people down.
I let myself have small pity sessions from time to time but then I try to move past it. I think about the trips I can still take (can you tell my husband and I love to travel?), the time with friends and family that I still have, the mundane day-to-day events I still have in front of me, and all the good things ahead of me. We celebrate life in 3-month increments between scans.
I received some great pieces of advice from various people when I started this journey. I met a gentleman a few months ago while I was waiting for my first follow-up MRI. He was just starting his cancer journey, getting scans to figure out what needed to be removed in the next day's operation. His fear and sense of being overwhelmed were palpable. We talked and shared our stories, and he asked me for my advice (even though he wasn't dealing with lung cancer). I passed along what was working for me in the moment. I recommended the journaling I do, trying to stay as positive as possible but to not ignore the realities of your cancer and treatments, finding the people that make you feel the best and keeping them in your life, eliminating things that don't bring you joy or positivity, exercising when and how you can, informing yourself about your diagnosis from reliable sources (DO NOT rely on Dr. Google!), eating well, and watching for the angels in your life. He told me I was an angel for him but in reality, he was an angel for me that day. Seeing him, in raw emotion and having him share his fears with me, let me see myself and also let me see how strong we both were – facing cancer head on.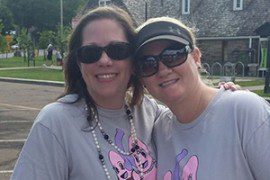 My recent triumphs include walking a 5K for Free to Breathe (now merged with the Lung Cancer Research Foundation) and being the number one fundraiser for our walk (and number two in the nation at the time!). I walked that 5K without my cane. I walked that 5K with other survivors and thrivers. I walked that 5K with a widower who buried his wife after her too-short battle with lung cancer. I told my story then, and now, to share with the world, or at least, my corner of it, that lung cancer doesn't just come for the smokers, the coal miners, or the asbestos workers. Lung cancer claims more lives than breast, prostate and colon cancer, combined. But the research dollars don't reflect that and need to keep coming in. Funding for other cancers far out paces that for lung cancer yet all it takes for anyone to be at risk for lung cancer is a lung. I want to spread the word and I want research to keep moving forward and staying one step ahead of my cancer so I have more treatment options to keep extending my life for a long time to come.