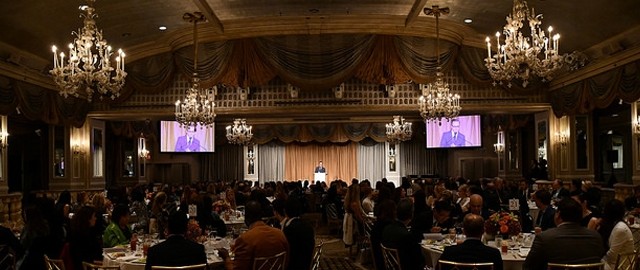 Fourteenth Annual Lung Cancer Awareness Luncheon
November 12
@
12:00 pm
–
2:00 pm
EST
The Lung Cancer Research Foundation's (LCRF) annual Luncheon shines a spotlight on lung cancer, the number one cause of cancer death worldwide. The event brings together the leading lung cancer researchers and LCRF supporters to help raise awareness and funds to benefit lung cancer research.
At the Luncheon, LCRF will present the 2019 Scientific Grant Program awards, including the presentation of the James B. Dougherty Award for Distinguished Research in Lung Cancer and the William C. Rippe Award for Distinguished Research in Lung Cancer. Dougherty served as the Chair of LCRF's Scientific Advisory Board for 14 years and played an instrumental role in the growth of the LCRF's Scientific Grant Program. It is through this program that LCRF funds innovative, high-reward lung cancer research.
This year's Luncheon will feature two speakers. Former LCRF grantee, Giuseppe Giaccone, MD, PhD, Associate Director for Clinical Research at Cornell University, will deliver the keynote address. LCRF Board Member and lung cancer survivor, Reina Honts, will share her personal lung cancer journey and discuss the importance and need for lung cancer research.
In conjunction with Lung Cancer Awareness Month starting November 1 and culminating at the Luncheon on November 12, LCRF will be hosting an online silent auction. Bidding will be open to everyone nationwide. To purchase tickets and tables visit http://lcrf.org/luncheon19 For more information, contact Meghan Wood, Director, Development: 212.588-1580; mwood@lcrf.org
---
212-588-1580
mwood@lcrf.org