Marlene Nadler-Moodie passed away on March 9, 2021. Marlene was a nationally distinguished leader in the field of psychiatric nursing and was dedicated to helping others who were dealing with a cancer diagnosis.
---
August 2016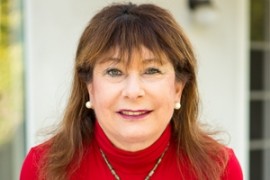 I was diagnosed with stage 3B non-small cell adenocarcinoma in June of 2012 after visiting the doctor for a dry cough. I was blindsided because I felt healthy, exercised daily and was an avid traveler. Lung cancer was not on my radar.
Since then, my treatment has been ongoing. Initially, I had two cycles of IV chemotherapy and two cycles of oral chemotherapy, combined with 7 ½ weeks of daily radiation. My second line of treatment was Tarceva, which I was on until switching to Opdivo. I recently participated in a clinical trial, but it was not successful for me. I just began another round of chemotherapy and will go through a few cycles and then another CT scan to see if my condition is stabilizing.
Fortunately, I have had very few side effects throughout treatment and have continued to work. Maintaining my usual busy lifestyle has been important to me. I am a clinical nurse specialist in psychiatric nursing and completed a 3-year term as President of the American Psychiatric Nurses Association. I'm still focused on travel, and have traveled with my family out of the country more than 15 times in the four years since my diagnosis.
Life has been good. I have a fervent desire to live each day as fully as possible, staying as healthy as I can. Managing all the tests, treatments, and side effects while trying to live "normally" is my constant challenge.
I have been blessed with a great support system. First has been my wonderful husband, who although quite shocked and saddened by my diagnosis, has been a constant partner. My sons and their significant others, friends and colleagues have also been a strong source of support. I am also grateful for my wonderful physician, Scott Godfrey. He is my oncologist at Kaiser and has been my treatment ally from day one.
To others facing lung cancer, I'd say that there are a number of new treatments arriving and there is a rush to discover more. It's important to know that a cancer diagnosis is not an immediate death sentence. You may do well with the treatment options available. Learn the most you can about your disease, be proactive, try everything, and keep yourself healthy and busy. Do what you love. Try something new. Do not spend each day dying – spend it living!
Shortly after I was diagnosed four years ago, I looked for ways to get involved. I was disturbed by the lack of research dollars for lung cancer, which is related to the unfortunate stigma associated with the disease. I found out that there was a Free to Breathe walk here in San Diego and quickly got involved. My team is Marlene's Wish and I'm proud to have been a fundraising "winner" in some of the past years. It's important to me to raise money and awareness for lung cancer research.